ONE
Edward Gorey, pen on ruled paper, loose sheet:

The arms that signify our house
Radiate from an octopus;

The arms which signify our house
Are of the octopus

Undated letter—fall semester, senior year, 1949: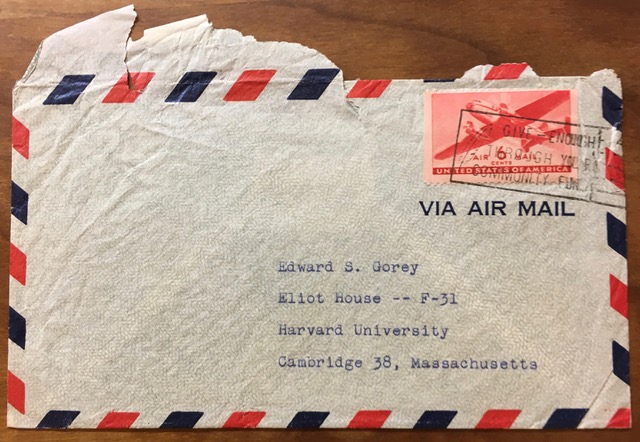 [Return] Helen G. Gorey
2620 Lakeview Avenue
Chicago 14 Illinois
Saturday

Mon Fils, plus cher,

Was awfully glad of your letter when I came in last night...

I suppose the box I mailed has arrived—as you noted no doubt, I didn't have nearly enuf for the big box, so just had to tote it back down to the basement. Which reminds me, I am making a bold and noble effort to get order out of the chaos that is our accumulation of magazines, etc. I am putting all the N. Yorkers in one of those wooden boxes, I should say I am going to. So far I only have them all piled up to take down, and the idea almost daunts me! Do you really and truly want to keep all these Town and Country's? They are so fiendishly big and heavy and I just don't see how they can ever be moved. However if you insist, I will put them in the wooden box too, but I do wish mightily that you would let me get rid of them. I am really afraid of the fire hazard all those things present, especially magazines that are so heavy and are bound to get packed down with little circulation.

I hope the narsty headache is a thing of the past—I suppose it was your usual reaction, what?

I have to go to the dentist this afternoon, and I notice that Gone with the Wind is at some movie out on Devon, so I might go.

Your schedule sounds good, and Ciardi certainly will take you—let me know.

There isn't a thing of interest to tell you pet—of course I need not say, and no doubt should not, that it has been deadly lonesome around here.

Tout mon amour, comme toujours—
Votre Maman
Edward Gorey, typed page, loose sheet:
'…the experience was shameful to a degree I had not imagined possible.'
Edward Gorey, pen on ruled paper, loose sheet:
The arms which signify our house
eight, fixed to
Are that which has an octopus
And though the fact is generally hid,
We pen our notes with ink of squid—
From "And 'G' is for Gorey, Who Here Tells His Story" by Jan Hodenfield, New York Post, 1973:
"I suppose I had a perfectly ordinary childhood, except that I was an only child. I did not grow up in a large Victorian house. I grew up in a series of apartments."

Sunday

Dearest Bebe,

Am wracking (?) my poor little brains for some items or even an item of interest, but there just doesn't seem to be any.

Did you listen to Henry Morgan on his new time? It is 7:00 our time Friday nites. He was quite funny this week I thot.

That's fine that you have a room etc., that suits you so well—it sounds quite ideal.

You didn't answer me about the Town and Country's—pliz, oh pliz let me get rid of them, as I just don't know what we will do with all this stuff. The N. Y.'s more than filled up completely one of those wooden boxes—in fact, most of another one. Have you seen the new magazine Flair? That is the one I thot you might have a chance to contribute something to.

Say Hello to Vito for me—do you know who you will get to come in with you when he graduates?

Such a stupid missive as this is, but it is the best I can do at the moment.

Anyway, je vous aime beaucoup—
Maman
From "The Poison Penman" by Richard Dyer, The Boston Globe Magazine, 1984:
Gorey's parents, Edward Gorey and Helen Garvey, were divorced when he was eleven and remarried when he was twenty-seven.
"Gorey, Edward St. John. [Untitled Poem]: "'I noticed as I passed, a blight…'"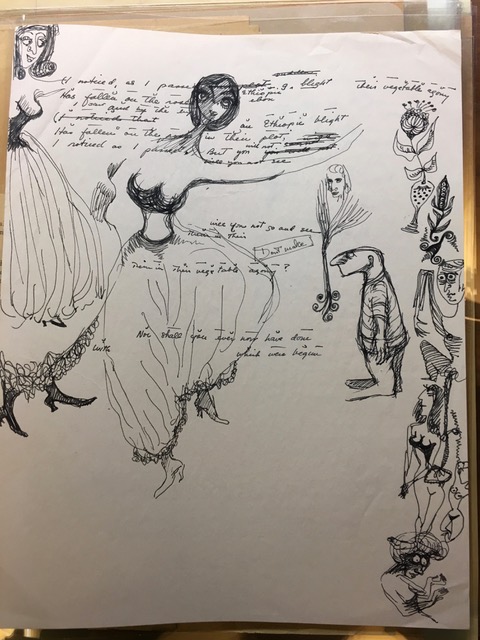 From The New Yorker, Editorial Offices; April 27, 1950:
Dear Mr. Gorey:

Thank you for letting us see your drawings. While I readily recognize their merit, I'm afraid they are not suitable for the New Yorker. The people in your pictures are too strange and the ideas, we think, are not funny. I would be pleased to meet you and discuss your drawings with you any Wednesday or Thursday that you happen to be visiting this city. I don't feel, however, that there is enough interest to warrant a special or an immediate trip.

By way of suggestion may I say that drawings of a less eccentric nature might find a more enthusiastic audience here.

Sincerely,
Franklyn B. Modell

[Enclosed clipping of a Stanley & Janice Berenstain cartoon, clipped from Collier's: Mother in yellow apron on suburban sideway; red-haired boy in paper crown, sitting on curb below her, elbows on knees, pouting: "You father is very exasperating at times, it's true, Thomas, but you must learn to ignore him out of respect."]

[Enclosed clipping from unknown newspaper: "DR. AND MRS. JAMES HERBERT MITCHELL and the Barnet Lee Rossets were on the dock in New York when the newlywed Joan Mitchell and Barry Rosset Jr. disembarked Saturday. The Mitchells may be home Tuesday—their plans when they left Chicago depended upon how long it would take to get Joan's paintings through customs. Their daughter and the Rossets' son were married late this summer in Le Lavandou, the little town on the Riviera where Joan had been painting on a traveling fellowship."]

[Enclosed clipping from unknown newspaper: "Middleton—James More romantic news in the Sydney Vincent James family is revealed in the announcement made by Mr. and Mrs. R. Hunter Middleton of Chicago of the engagement…. Miss Middleton, who is a senior at Carleton college, and her fiancé were classmates at the Francis Parker school. Mr. James is a student at Harvard university. The wedding is planned for next summer."]

Tuesday

Mon cher fils,

Your little friends seem to be getting in the paper with great regularity—enclosed two more items.

I haven't mailed cookies yet this week, but will try to get them off before the weekend—you mentioned that the Brownies came on a Monday, and that seems a long time, as they were mailed first thing the Monday morning before.

Believe it or not, Nell and I are going to Gone With the Wind tonight. I didn't get to it when it was out north, and today it is at the Monroe, right up the street, so I asked N. if she would like to see it again, and the woman never even saw it once—and what's worse, she never even read the book! So I got the battered old volume out for her.

Weren't you going to find out what the balance of your bills were at the Co-op and the book store and have me send checks? I hope it isn't any more than you thought, as the way I find no money left is getting vurr tiresome—oh well, maybe a miracle will happen one of these days…

If you haven't already done so, wilt try to remember to answer in your next communication, about the Town & Country's, and also whether you want me to get any shorts? I did notice the number of T & C, which was its 100th anniversary number, and thot that even if you would get rid of the others you might want that. Dorothy and I are both madly writing letters while our boss is out—and she must be about due back, so will get this out before I find myself unable to finish it.

Tout mon amour mon petit,
Votre Maman
GEORGE E. COLE ESTABLISHED 1882 TROWBRIDGE 6-3000
PRESIDENT AND GENERAL MANAGER
HARVARD COOPERATIVE SOCIETY, INC.
PAID UP CAPITAL $50,000
ADDRESS ALL COMMUNICATIONS TO THE SOCIETY
HARVARD SQUARE, CAMBRIDGE 38. MASS.

Mr. Edward S. Gorey
Eliot F-13
Cambridge, Mass

Dear Sir:
Your charges date back to May 1949 and amount to $88.65. We
must ask that you give this balance your immediate attention.

Yours very truly,
HARVARD COOPERATIVE SOCIETY
BY E H Comey, CONTROLLER
Edward Gorey, pen on blue Harvard University Coupon Book, $5, No. 18515: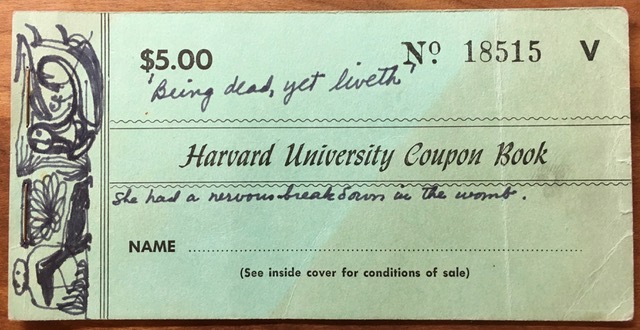 Edward Gorey, typed page, loose sheet:
'…the experience was shameful to a degree I had not thought possible. He
mentioned to you,
has, I believe I told you, dear Evadne, a distastefully bushy moustache, and I—
the remembrance sends a shudder up my spine—I was wearing a veil'

'…the experience was shameful to a degree I had not imagined possible. He
carries—have I mentioned it before?—a distastefully bushy moustache, and I—the
remembrance, dear Evadne, sends a shudder up my spine—I was wearing a veil'
Edward Gorey, pen and pencil on back of blue Harvard University Coupon Book: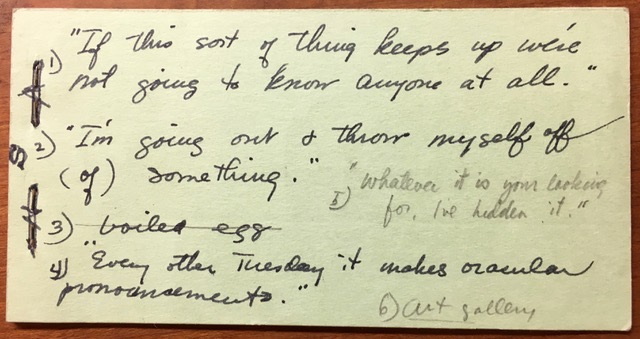 Tuesday

While Mrs. B. is out I shall try and finish this bit of a note—I have piled all the T & C's away for your perusal Christmas—it is not such a vital thing—it's just that I would like….

The telephone is now back up in the front hall, only on the table by your door, and it can be put under the door, the cord I mean, so that it can be in the bedroom if desired.

Your school mates sure do seem to be stepping off with great abandon. Hope your party, and the whole weekend was fun—those things can be either colossal flops or successes.

I got two shorts today and will mail them first thing in the morning—I mailed cookies yesterday. I got only two pairs of shorts, to see if they will do. The man at Fields suggested getting a larger size and they would not be quite so high up the waist, but it didn't seem such a good idea, as the crotch measured just the same on the 34 and the 36. If these will not do send them back and I will rip out the name and return them. If they will, I will get as many more as you say.

Did you see the squibb in the N. Yorker, about "this is a Hell of a time to go around being normal." I thot it quite amusing.

Would you like a box of different kinds of food at Thanksgiving time? I thot with more time on your hands and maybe not all meals being served, or are they? maybe you would want something more. Let me know in time. I wish you would get invited somewhere—you might, to Ben's if you would see Eleanor. Altho when it comes to them…




From "Edward Gorey" by Simon Henwood, Purr, 1995:
"But then I look back and try to figure out what my family was like and I'm completely blank on the subject. I mean, I could never write an autobiography because I wouldn't have the slightest idea of what to say about anything."


Thursday

I did mail a box this morning containing two pairs shorts and one pillow slip, wrapped around the bottles of Theracebrin and two of Feozol. I put them in because I thot it a good time to send them when there was something to wrap them in…

Is Vito going home for Christmas? I'm asking because I thot you might want to ask him to come home with you. If you do want to, it's O.K.—we can manage the sleeping arrangements some way. And I would hate to have him there all by his little onesies.


When the need for vitamins is acute, prescribe

G E L S E A L S
T H E R A C E B R I N
(PAN-VITAMINS, THERAPEUTIC, LILLY)
—a complete, highly potent, and scientifically
balanced therapeutic vitamin combination for oral use.

Friday nite

Dearest Fils,

Am enclosing that ad that was in the paper today for that lighter like Ed sent you—he gave me one too, and I went and bought some Mystic tape and put a small piece over the political part and you'd never know it is there.

There seems to be not one thing of interest to tell you I am sorrow to say—things just go along. I will get a batch of cookies off this weekend. Guess I told you I spent last one making fruit cakes which are all bedded down waiting for the holidays.

Pliz let me know if you got the shorts and if you could use them—I will hold this letter till tomorrow in case I should get a letter from you—hope I will.

Sunday

Nothing from you you little varmint. Thot you might like to see that Harvard made last night's News headline. Ed called to ask if I thot little Oscar might be in the clink—but I told him I did not think you engage in such rowdyism.


[Enclosed clipping from unknown newspaper: "SEIZE 16 IN HARVARD GRID RIOT; Rooters Clash With Cops; Party Girls Join Fray; CAMBRIDGE, Mass.—(UP)—Exuberant Harvard and Princeton students staged a wild pregame football demonstration early Saturday that turned into a near-riot and resulted in the arrest of 16 undergraduates…. SCORES of girls who had attended pregame dances in Harvard houses just a short while before participated in the demonstration that included numerous fist fights and pranks. Tuxedo-clad students snake-danced through the square. One undergraduate climbed atop a bank marquee. Motorists attempting to drive through had their cars rocked. A trackless trolley was marooned when its power line was jerked from an overhead connection…. Harvard students said the trouble started when some Princeton rooters entered the Harvard yard near Gray Hall and threw a water 'bomb.'"]
---


TWO
Beatrix E. R_____ (surname uncertain) to Edward Gorey, typed letter:
Sylvia Simons Sights to Edward Gorey, pen on unruled "SSS" letterhead:
Edward Gorey to Consuelo Joerns, typed letter:
I fully intend to write you reams every time I get another letter from you, and then some horrid little crisis arises, days pass, I weep, and never get to my typewriter. Do please forgive me.
Vito Sinisi to Edward Gorey, typed letter:
Write soon love and don't let my silence be encouragement to you. Will look for yours in the mail in about a week. Don't disappoint me.
Beatrix E. R_____ to Edward Gorey:
This is not going to be long inasmuch as you probably don't have time to wade through great tomes of stuff anyway and I couldn't possible begin to tell you everything I would like to in a letter… The question is, are you coming to Chicago this summer.
Edward Gorey to Consuelo Joerns:
This is being quite the most loathsome vacation I have ever endured. Principally, of course, because I am in Chicago and Tony is in Fall River, and no communication between the two. Gawd alone knows at what particular point we were at when I last wrote you; a rather preliminary one, if I remember at all. Things, meaning us, have been utterly cloying and grim and addled for the past two months, like two wax effigies run together in the heat.
Sylvia Simons Sights to Edward Gorey, typed letter: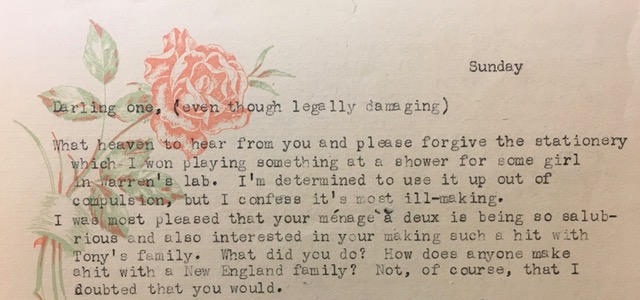 Edward Gorey, two typed pages, loose sheets:
On their way up to the Square one afternoon in the last weeks of the Spring Term, Edward and a friend encountered two roommates of the latter's acquaintance. Edward, amused at the reluctance his friend tried to conceal as he made the unavoidable introductions, and its cause, his own capricious talent for outré behaviour, allowed the others' last names to escape him. He was, however, sufficiently curious (his friend was in a class with one of them, and had spent several evenings studying in their rooms) to enter the conversation a moment later.

From the younger of the roommates' imperfectly British accent, that and his general air, Edward drew the obvious conclusion, and proceeded to gabble darkly. His malice, directed at his unwillingness to cope otherwise with the situation, and its innuendoes were accepted, if not returned, in the same spirit and a carefully modulated voice. Edward's friend and the other roommate, whose name was Anthony, discussed their philosophy course aside.
Vito Sinisi to Edward Gorey:
I'm sure that you weren't worried about my hiatus but it was caused by indecision. I'm no longer attending that school on the hill and have taken a leave of absence until the fall term…. I'm tired love and am just now reacting to my thesis and what-not of the final term. I spend most of my day reading logic…and thinking about an essay that I hope to write in a few weeks.
Chain letter, typed and mimeographed, sent to Edward Gorey, 1949 or '50:
Treasure Telephone
United Airlines
Dept. 225
The luck of the cards has been sent to you. It has been around the world 4 times by an officer.
Edward Gorey to Consuelo Joerns
I am but mad, mad, mad for your but mad, mad, mad Christmas present to little undeserving me. We (me, your mother, Mike, Bob, assorted strangers) have come to the conclusion that it serves the innocent purpose of being a traveling inkwell; however, somewhere in the murky depths of my brain I suspect you may have discovered some much more sinister use for it, and don't intend to tell me. Anyhoo, it's by far the most charming present I received this Christmas, or any other Christmas, for that matter.
Vito Sinisi to Edward Gorey:
The gist (sp?) of the thing is that there are several ways of knowing and as many objects of knowledge. In this way I hope to give a firm foundation to religious, ethical, esthetic, and non-scientific knowledge…. I think that it will show that your own peculiar way of thinking is as valid as any other, as if you didn't know already. Anyway it will give you some kind of philosophical foundation, if you need it.
Beatrix E. R_____ to Edward Gorey:
Must tell you about my fabulous winter… Been earning fabulous sums of money singing with the orchestra… and dating the New York Yankees, who, needless to say, will be in Chicago for a few days while I am. I naturally expect to make all the gossip columns…
Sylvia Simons Sights to Edward Gorey:
The four of us went out on an all night binge, the reason for which I will tell you in the following paragraph beginning at the Beehive, proceeding to the limit at Don the Beachcomber's, followed by my being carried up Walton fireman's carry and being dropped in a snowbank and running into Bea's chum Marion on the corner of Walton and Rush with some creep looking more like a floozie than ever, quite an accomplishment for Marion as you know, and when I introduced Warren as my husband, Betty who was less drunk than the rest of us claimed her back teeth fell out.
Edward Gorey, pen on unruled paper, loose sheet:
Do you realize that whenever
you light a cigarette, you're
in company w/all the
sophisticated people in
the world?
Vito Sinisi to Edward Gorey, typed postcard:
Dear Ted:

A book (Hume's Enquires of Human Understanding)
from Oxford Univ. Press has arrived or should arrive
for me. Please forward same to me, huh? Have not
heard from you in some time and for all I know they
have found your body floating face down in the Charles…
Hope you find your job in Boston as mad times are
in store. Vito
Edward Gorey, two typed pages, loose sheets:
By the time Edward had airily greeted someone he knew passing down the oppose sidewalk, discomforture was complete; they broke up shortly, all embarrassed.
Edward's friend would hold his irritation in silence for at least a quarter of an hour, so Edward was left to his own thoughts. It came to him with a slight shock, as they turned into the Square…that he was a good deal more irked with himself than he should be, that it was on Anthony's account
Chain letter, typed and mimeographed, sent to Edward Gorey:
It must leave you in 24 hours after receiving it. General Vaughan received $25,000.00 after receiving it, General Patton $18,000.00 and lost it because he broke the chain.
Beatrix E. R_____ to Edward Gorey:
Please write me baby…it's been absolute ages and I am perishing to know if you are coming to the big city…write and tell me immediately!!
Vito Sinisi to Edward Gorey:
My mother and father will leave for Europe and Italy in a few months and this summer would be ideal if you could make it, that is, if you could tear yourself away from Boston and other things which I shall not mention.
Edward Gorey to Consuelo Joerns:
Our behaviour to one another is most of the time venemous and peculiar, and, infrequently, overly kind and considerate but still peculiar.
From "Edward Gorey and the Tao of Nonsense" by Stephen Schiff, The New Yorker, 1992:
"I thought I was in love a couple of times, but I rather think it was only infatuation. It bothered me briefly, but I always got over it…. I realized I was accident-prone in that direction anyway, so the hell with it."
Edward Gorey, two more typed pages, loose sheets:
'My dear, don't think I don't appreciate the lust for him which has been racking your poor withered body ever since you first met him. I sympathize to the utmost with your agonies. I know how cruel a thing it must be for you to see that he prefers my companionship to your incessant clawing and drooling. And the fantasies—you must have them—I'm told all you senseless creatures have them—are the worst, aren't they? Lying there, imagining your rather slack mouth being crushed beneath his like a flower. What do you do when it gets unbearable? Press on it with a pillow, or perhaps your hairbrush, since he has a moustache?'
Beatrix E. R_____ to Edward Gorey:
I'll be a stranger in Chicago, practically, and love every minute of it…think of the old faces I won't have to look at…
Edward Gorey to Consuelo Joerns:
Except for fugitive moments of pleasure in conversation, liquor, and the movies, Chicago is too deadly as far as I'm concerned. No one really I care to see anymore except Mike and Bob, and Sylvia and her mother. Also I seem to have reached a point where virtually everything brings back faintly distasteful memories, and I don't think I shall be able to bear spending the summer here. First and foremost I loathe myself and by extension almost everything I've done and seen and everywhere I've been. I should like more than anything to be someone else in some strange, mad place, Tristan da Cunha perhaps, some largewinged bird screeching above the Atlantic, and dropping rocks on the heads of shipwrecked sailors: to show my hatred for humanity and its atrocious and dismal little dilemmas.
Chain letter, typed and mimeographed, sent to Edward Gorey:
You are to have good luck in 4 days—it is no joke. You are to have good luck in 4 days.
You are to receive it in the mail.
Good luck.
---

THREE
Sunday

Dearest Bebe,

Was sure relieved to get your card—my imagination had begun to work overtime. I shudder to think of the things it will do when you are out in the world, and not at college where I do feel sure that if something disastrous occurred I would be notified.


From "Edward Gorey and the Tao of Nonsense" by Stephen Schiff, The New Yorker, 1992:

"We were far closer than I really wished most of the time, and we fought a good deal right up until the time she died, at the age of eighty-six. She was a very strong-minded lady."
So I will wind up, again asking you to please let me know if and when you really need money, because I know what it is like to be without…

You did not tell me if you wanted any extra food around Thanksgiving time, but maybe in the letter you were going to write you will…

Typed postcard, stamp of red eagle, "U.S. POSTAGE 4¢ AIR MAIL"; canceled "76 CHICAGO, NOV 29, 4 PM, 1949, ILL.":
Just had what may be a weird idea, but thot I'd better find out anyway. You remember or do you that when I asked you what you and Rachael had to correspond about, you said I ought to know—and this remark together with one that you already knew what you were getting me for Xmas had me madly searching my so-called mind for something I might have evinced a desire for when she was here. I could not think of one thing, and then when Izik came back from Wichita she told me that P. was going to get me an electric coffee-master if I wanted, and I told her I did not, but that I would most awfully like a new waffle iron. Since, I got to wondering if by some chance that might be what you and R. had in mind, because I know her husband had something to do with the Electric company and might be able to get discounts. If this should be so, I mean that you had thot of it, but have not as yet done anything, then maybe you'd better not, as P. has ordered one thro Isabel Greene. If you have, let me know as then I'll get her to cancel hers. If I am clear off the beam, just write it off as one of my brainstorms,—
Mom
Edward Gorey, pen on back of blue Harvard University Coupon Book: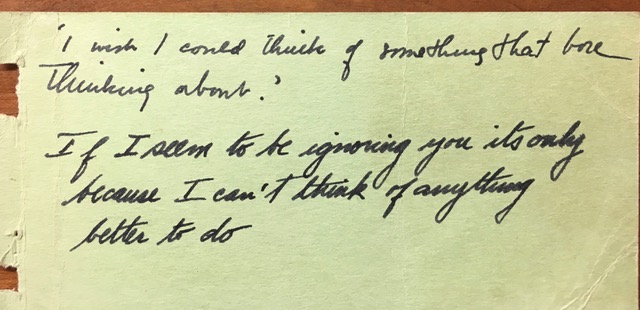 Saturday

Dearest Bebe,

Well I'm glad I was wrong about the waffle iron, as the one from Prue has come, and am I ever pleased, as you know I have been wanting one of those super ones for a long time—now we can have a real waffle party.

I sent a couple of towels and washcloths—and if you need more let me know.

Thursday at office

Must get this written fast while The Drab is out for lunch….

I mailed the box to you today, and everything is not in it, such as I did not get your pajamas washed or cookies made, but will do that over the weekend…. There are your other pair of flannelette pajamas, two white shirts, the snaparong thing, which I exchanged and let me know if it is alright. I also put another box of those plasters for your feet, the box of candy, the fruit cake for Mary, and the rest of the date and nut bread.
•
Men! It's for you! Our
TERRY
SNAPARONG
Ashore or afloat, equip
yourself with Snaparongs.
It's the answer to what-to-
wear when you step from
the shower, tub, or surf, or
when you're shaving. No
more struggling to twist
that inadequate towel
around your middle—snap
the Snaparong in place
and be comfortably and
decently garbed. A length
of white Turkish toweling
has patented Gripper fas-
teners at top, adjusts for
perfect fit. The big pocket
is for cigarettes or toilet
equipment. Small, medium,
large.
2.50
Mail orders filled
MARY LEWIS • 746
FIFTH AVENUE
ALSO AT MANHASSET AND FRESH MEADOWS, L.I.


From "Edward Gorey" by Lisa Solod, Boston Magazine, 1980:

"Any parent-child relationship has its sides, you know. With Mother I was always getting carried away. I'd say, 'Oh, Mother, let's face it. You dislike me sometimes as much as I dislike you.' 'Oh, no dear,' she'd say. 'I've always loved you.'"
Saturday
Thursday
Sunday
Tuesday nite

I read a very good new mystery—"She Shall Have Murder" and now I can't seem to remember the author, but know you would like it

will you please get the number off that prescription for your feet, so that I can put it on my record?

will you pliz tell me just what kind of bow ties you would like me to try to make?

You know if when you start working and don't manage to snag a good stipend at first, it will be a very good feeling to know that if you have to, you have a sum laid by.

Thursday was Ed's birthday and I got him some sox for you—am telling him that you asked me to, and sent me the mon, so don't be surprised when he thanks you.

Poor Dorothy—the Dr. says she has acute bursitis from that tumble she took out of the car on her shoulder

Do you still like your shoes?

The television has quit behaving entirely—nothing but wild flashes and lurid nightmarish visions—but I suppose Ed will struggle with it again today. I'd go blind watching, so I don't.

Weather still poisonous—now thawing from a slight snow in the nite. Friday was the worst day I ever saw—fog, pouring rain and warm.

Sure hope you get your trip with Tony—it does not look from here as if there were ski-ing anywhere, but I understand there are horrible blizzards in the West.

No further news—pliz let me know just what day you arrive, so I won't be caught without food, or with too much.




From "Edward Gorey" by Lisa Solod, Boston Magazine, 1980:

"But, poor dear, she had become very sour toward me in the last five years of her life. She was, however, lovely to everyone else."
Dearest Fils,

The cookies did get made and mailed this week, but I did not get around to a letter, owing to a rather hectic Sunday. I had asked Prue, Marie and Tildie over to try out the new waffle iron—and what a fiasco I put on! I did get a flash of sense in the afternoon before anyone got here and decided to try it first, so I mixed a batch and filled just one quarter, exactly according to directions, and when it said Done, I simply could not pull it open, so knew I had a stuck waffle. I finally got it open and was it stuck, but good. Marie and T. came real early, just as I was struggling to get it cleaned up, which I finally did, and then I seasoned it with grease, as it said to do if it stuck, so thot all would be well. To make the sad tale short, it kept right on sticking no matter what, and I wound up by making pancakes in the kitchen. I am quite sure the trouble was with the batter mostly, as Ed had gotten hold of some mix he said was wonderful, but I somehow made it too thin or something. But I shall go right on seasoning and baking the things till I get it licked—I should have had better sense than to start it out with company.

More anon, pet, avec tout mon amour,
Maman


---
NOTE: This collage is mostly composed of documents—excerpted but not altered—included in the Edward Gorey collection at the Harry Ransom Center, The University of Texas at Austin. Many of those documents are reprinted by the permission of Massie & McQuilkin as agents for The Edward Gorey Charitable Trust, Copyright © by Edward Gorey. Idiosyncratic spellings, from both Edward and Helen Gorey, are maintained. The letter from Franklyn B. Modell of The New Yorker is used by permission of the Estate of Franklyn B. Modell. The Vito Sinisi quotes are used by the permission of Rosaria Sinisi. The interview excerpts come from those reprinted in Ascending Peculiarity: Edward Gorey on Edward Gorey, 2001, selected and edited by Karen Wilkin. This essay was researched and written with support from the Regional Arts Commission of St. Louis.