About Us
Newsletter
Get our weekly e-newsletter announcing new online content, upcoming issues, and events here.
Connect
In Print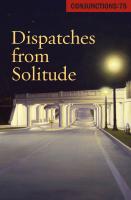 Dispatches from Solitude
Fall 2020
Edited by Bradford Morrow
Online
February 24, 2021
Then geese cycle madly
across a pond
like Wile E. Coyote
three feet past the cliff—

catch lift
and join the great migration.
February 17, 2021
We're coming home from school, walking up the hill, Marco in front, his head down, his hands buried in the pockets of his jeans, Laurel behind him, the collar of her shirt spilling out of her sweater like a tropical plant, then Samantha, agitated, as if struggling to free several birds from the snags in her hair, and finally Peter, our little brother, who lags behind us and sings:

           and all the people said
           what a shame that he's dead
February 10, 2021
Lev's suit was neat and elegant, even when rumpled. In another life he might have been a priest rather than a civil servant and teaching meditation classes once a month at the community center. He had turned forty that year and often talked about retirement when he could dedicate himself to his practice full-time. They had met two years ago, after one of his classes, when Claire had asked him if he believed in reincarnation. She was interested, she said.
advertisement
advertisement