Contributors
Connect
In Print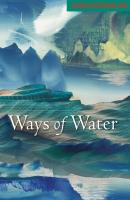 Ways of Water
Spring 2023
Edited by Bradford Morrow
Online
October 4, 2023
who put these angles in us
yes angles
we attend to their impossibilities that they become

if not possible, light-legible, which bear load
September 20, 2023
The Rachel stands tuned  
            to multiplicities, 
aslant in a territory of longing,
            where she becomes foreign.

            What has she found?
She listens, acknowledges another sound,
            diffuse, multiple,  
pulsing thought, oscillations, whisperings,
            never only one.
September 13, 2023
I had yet to discover the source of that star, it came and it passed but from where it sprang and then fell to fading remained a mystery. In cycling its light lent its powers to coloring my tablecloth a lighter shade, relieving pigment from its duty to darken, except for those spots where I placed my bottles and cups, shielding only parts of the piece from fading, threads left closer to their original hues hewed to others abandoned as wraiths to their fates, a darker ring the mark of those who stayed behind.