Contributors
Connect
In Print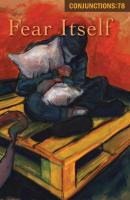 Fear Itself
Spring 2022
Edited by Bradford Morrow
Online
July 6, 2022
I. THE SYMMETRY

In the beginning, they told us that only babies born with a herringbone of downy fuzz running the full length of their spines carried the gene. Then it was the nostrils: if one was larger than the other. From there, it grew into a hysteria of symmetry. If one eye was squintier the baby was a carrier. One ear higher. One testicle smaller. Left side of the labia fatter. Oh, how Richard squirmed at this. To think of his daughter having labia; such a prickly word for his pure baby girl whom we'd designed one night on a whiz of bubbly wine and goat cheese, right down to her delicate parts. That area I engineered, being the woman and inherently more attuned to shades of pink, shapes of flower petals, and all. But, still, nothing was guaranteed.
June 29, 2022
Here, they combine the knowledge of choosing words with the art of touch. Before somebody utters soft fur, they keep their hands on a dog's head for years.

From granaries, they dispense hunger, a spice that stimulates the sense of lack. The king trusts that absence is the saltpeter of things susceptible to nonexistence: what doesn't keep in salt will be preserved in hunger. No myth can be cut like the fabric for a coat, the halves of which will be dragged through life. Thanks to the spice, the subjects of the kingdom don't know stale love, only unfulfilled. The professed religion is apnea. All maturing is mutiny. Red fruit get a visit from hangmen.
June 22, 2022
No, that's not it, that's not how it happens, it's—

—because I'm here, have been for years and years, in the backseat of the Oldsmobile 88, top down, wind enraged, tearing along some country road at night, Jackson drunk at the wheel, Ruthie by his—

—the world all quick nervous giggles and skinfizz, the whirled world, the world like leaves spinning in a crazy autumn gust, only it's not autumn, no, that's, it's what, it's—