Contributors
Connect
In Print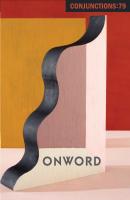 Onword
Fall 2022
Edited by Bradford Morrow
Online
March 29, 2023
He had understood marriage as a way for people to be close together by maximizing their respective, individual isolation. He suspected that people got married so that the mirror of blame and excuses could point away from their respective selves, a way of blindly dismissing their own accountability. Had they been alone, they would have been forced to face their own terrors and demons. They would, at least, have tried to tackle some of their weaknesses instead of directing the velocity of their failure toward their "seemingly" innocent spouse. Zeaz understood this on a fundamental level and so, in the Year of the Tiger, he prepared legal papers to divorce his white wife and faced what he feared the most: himself, a biracial man with intermittent epileptic episodes, who was less dominant than a leaf.
March 22, 2023
To survive sadly is still. 
At a boat's bottom, allegedly a boat. 
Allegedly an anchor. Allegations of a law. 
Oh splinters that split us, oh those who spit on our black gaberdine. 
The skin rolls the water off. That is what ash is, actually. 
Accumulation of spittoons and the water's detritus. 

Hump day is a whale, freer than us even in capture, even in tallow. 
No one said: this isn't a whale, even as they strung it up to cut its meat. 
No one said: this is something tbd. They said: mammal, leviathan, child of god, named by Adam. 

We got a new name. Something made up. We managed to live. In that hole name.
March 15, 2023
He's been coming around a lot but I've only recently started calling the dog Jesus because if Jesus were to return, this is how he would do it. In this shape, in this form, in these times. I'm sure of it. My best and only friend, Holy Amy, who thinks of herself as a kind of very powerful and sexually budding nun, disagrees. She says Jesus would return in the form of a handsome kisser, not some ugly mutt. Someone with a beautiful face, so we would know it was him. I say he's not ugly. She says I am "vexed," "cursed," and that I am doomed to repeat the mistakes of those before me, though I'm not sure whom she's talking about. All I know is it's true: he's not ugly. The dog suit he wears isn't even a dog suit.