Contributors
Connect
In Print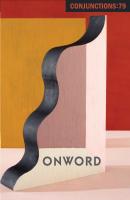 Onword
Fall 2022
Edited by Bradford Morrow
Online
November 23, 2022
I SAW ALL THE STRANGENESS IMMEDIATELY,

I saw it in this very particular slide of swell's,
the sylphspun silk of the sylph, she sideways,
her garage is paradise in masque, her sweep
is saturn, szturn im sturm & string, install'd
in the area's traverse. he follows that lucky
old sun, the gesture of her lining and loose
knot, and pulls herself through burns and a
dry wash and some soft lead. in discorporate
minerals, or in the sharing of the black sleek
sharing with the wild man in her soft shoes,
all over the panes of the various sworld and
out into the superhighway of bywater, hard
by marigny. to flow through one to another
indetermination, the posture of their brush
must be immaculate fray, all them, all they.
November 16, 2022
Day Book

One wants to grasp a latch.
The broken star, the cellophane.
One suffers if untethered from
the pain that brought a lock.
Across the way the husband tends his teeth.
The wife redresses, parted from her paper.
To emblemize, to separate the word
grief reaches. Grief reaches, unseduced.
November 9, 2022
He had thought for a while of having his ashes placed on a ship propelled out to sea while being set aflame with burning arrows—in his dotage, my father grew obsessed with Norse myth—but in today's regulatory environment, bringing him here was the closest feasible compromise. "The best moment is when Fenris the giant wolf appears," he'd told me on Zoom, his voice trembling only slightly. "It draws everyone's attention, so nobody will be watching you. Do you remember how you used to cry when we got to the wolf?" This sounds more like something Ulf would do, although Ulf doesn't remember coming here either. Most likely it was a lost intention of my father's. He might have spent a day talking to strangers in a bar about planning a trip here, an imagined bout of quality time so vivid it became real for him in retrospect. Towards the end, the winter and the lockdown getting to him, my father was drinking forty ounces of vodka a day. I may not have been his favorite son, but I was the one who agreed to scatter his ashes here once, and if, the park reopened after COVID. Ulf would never violate theme park rules.
advertisement