Contributors
Connect
In Print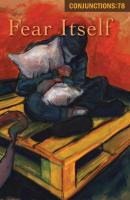 Fear Itself
Spring 2022
Edited by Bradford Morrow
Online
May 11, 2022
                                  1.

Someone nodding, and the light pressing down
as though it had weight.
And right in the middle of what I want to say
there's a long row of chairs. There are green,
red, yellow arches that gradually contract
and close, like doors.
Like a disease whose threshold no one can cross,
she says.
May 4, 2022
Once upon a time, there was only Olga and me, as well as our old dog, Boji, in a big house we inherited from our parents, whose food we had slowly been poisoning in a span of at least a year. Our parents blamed their "chronic illness" on inclement weather, on the "heathens" who played rock music next door, sometimes on "cursed" and "possessed" appliances and furniture.
April 27, 2022
birds, vital furniture for our eyes. The floor refoliates
a dozenfold. Months
these days waltz
triple-time
within us. Echoes of fundamental shapes. Great-

grandfather, Harry Houdini's accountant.
Isaac, our cousin the Don, muscled his way into King's spitting distance.
All told, say
the performance outlived the performer?
O
advertisement