Contributors
Connect
In Print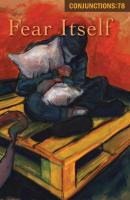 Fear Itself
Spring 2022
Edited by Bradford Morrow
Online
September 21, 2022
What we had done was trample on Johnson's city, four sheets of paper, loosely placed side by side, with buildings growing in no particular visual perspective, some upwards, some in profile, some in three dimensions but others in blueprint, and this, we felt intuitively, was a triumph of Johnson's city, or would-be city, it's resistance to confinement, its ability to transcend.

And we sat with Johnson. We consoled. We patted Johnson on the back and said that we might rebuild it, that it could be rebuilt. That it could be better and that we could help.

We collected the roll of white butcher paper from its mount and unfurled it across the linoleum, gathered the colored pencils, the crayons and scented markers and watercolors and even the Sharpies we'd hidden in our cubbies. We collected scissors and Scotch tape, and began to connect the sheets of paper, for there would be no limit to what we could design.
September 14, 2022
Nocturne

Midnight at the pit of my irrelevance:
     a hair's breadth away, I step closer to the mouth of it, no more afraid to
shake hands with my lacuna than a bird is of the air
     whistling in its bones. To stay possible as long as possible

had felt like enough now—a persistence of streaks
     in soft butter yellow shed from the clock tower onto the indigo-
freaked slate-to-black vagueness
     that indicates the river. The light lives
 
from between the lines of Another Love Discourse
July 27, 2022
Silence

I thought I was good because I had borne the brunt of society's manhandling, because through halls
of terror I fled and gangs of girls followed me, seeking to press thumbs deep into
my arms, cheeks, back of my neck, thighs, because goodness lay heavy in the air around me, because
most around me were powerful underprivileged role models, I thought it good enough
to know and read vexatious histories and in my own private sanctum feel the pain, to dwell
in sorrow through theater and dance, that just by being around, goodness could rub off on a person
advertisement