Contributors
Connect
In Print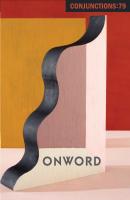 Onword
Fall 2022
Edited by Bradford Morrow
Online
February 1, 2023
Recently, your wife has left you. She's reading Frankenstein, and there's nothing in the world she'd rather do. You'd think talking about the book would be an option, but no. Books lose their power when she tries to speak about them. So do movies, songs, news articles, and most of what she does with Nathaniel. Only in passing did you hear her call him Nightingale, and then you learned he was reading an alphabet book of birds.
     You adopted the nickname.
     You find him on the pink couch, whispering to an Ernie figurine.
     Where's Bert? you ask.
     Birch in the vent.
     Time for dinner, Nightingale.
     Time for dinner, he sings.
January 25, 2023
The birth of color begins in the entanglement
of water. Color is the birth of light.

Low clouds morning visitation, the words are
forming separable from their origins. Stars

crease the heavens. I have been moving
into their stream, heavenly bodies, the architecture

loose and ungainly. I'm not one but two, the occupancy
of a system, here in the apparel of another's

light, to come down these stairs, dawn
weighted with silver, a perimeter that hooks

sky, bleeds our nights into day. There is this
sanctuary, intricate respite, cut-out, here on the floor
January 18, 2023
A second-growth forest is not the same as a first, and a third is not the same as a second. Those old dying oak and chestnut trees saved a century ago from axe and saw to shade the grazing livestock are surrounded now by all the wrong progeny—birches and popple in one case, pine trees in the other. Absent a mature overstory's broad canopy, the understory receives too much unfiltered light, and low thickets and dense copses of trees and shrubs all the same age spring up.
     In ancient times a carpet of fallen leaves and ferny ground cover was lit by long beams of sunlight descending from openings in the treetops as if from the clerestory windows of a great cathedral. Humans and other animals walked easily among the tall, straight trunks and had unobstructed views from glen to vernal pond and stream to the glacial moraine beyond. That was a forest, not a woods. But the forest was not replaced by itself. It was displaced and replaced by these woods, which is a different and lesser thing.
     My dog darted through the brush ahead of me, tracing the lingering spoor of a deer or bear or coyote, led by his nose instead of our man-made trail. And as I walked I remembered again a story from the village, part of which I saw, part of which I heard from witnesses, and part of which I imagined.