Contributors
Connect
In Print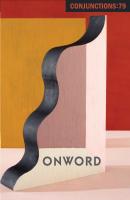 Onword
Fall 2022
Edited by Bradford Morrow
Online
December 7, 2022
The relict lay reading in the contractor's bad grass. I used to breathe sleep eat poetry. Until could not see to read except the large-print books, mysteries, tell-alls, and how to build waterfalls, but could see the hollows in the small of his buttocks, the fair hair feathering into his pitchy seam.

I could see rings of brilliance 
beyond any visible human means.
November 30, 2022
Alice was actually a labeler and not a pickler. Still, she knew what Mr. H's picklers did was nothing like her grandmother's pickling, sweaty and stained and clouded by hot vinegar steam, shoveling already rotting vegetables into their boiling bath like some kind of unbelieving prayer. Everyone winced when eating what came out of her grandmother's pickle jars. Mr. H's were made of faceted clear glass, and the bobbing pickles inside were a bright, inviting candy-green. To look at one was to feel it snip crisply between your teeth, to set your mouth watering. Alice was midwife to that salivary burst. That was what she dressed up for. Today it mattered even more than usual.
November 23, 2022
I SAW ALL THE STRANGENESS IMMEDIATELY,

I saw it in this very particular slide of swell's,
the sylphspun silk of the sylph, she sideways,
her garage is paradise in masque, her sweep
is saturn, szturn im sturm & string, install'd
in the area's traverse. he follows that lucky
old sun, the gesture of her lining and loose
knot, and pulls herself through burns and a
dry wash and some soft lead. in discorporate
minerals, or in the sharing of the black sleek
sharing with the wild man in her soft shoes,
all over the panes of the various sworld and
out into the superhighway of bywater, hard
by marigny. to flow through one to another
indetermination, the posture of their brush
must be immaculate fray, all them, all they.