Contributors
Connect
In Print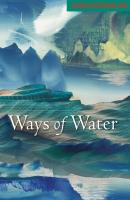 Ways of Water
Spring 2023
Edited by Bradford Morrow
Online
May 31, 2023
Ice worms first start communing with me in Forlandsundet, a miles-deep sound north of the Greenland Sea. I don't speak Norwegian, but I can parse: For. Land. Sun. It's completely black outside. Det means "that or it." Det, that's easy, I've been one all my life.

The KV Svalbard is an icebreaker. From the foredeck, the rocky screes sweeping west are the planet's emptiest place. No one between us and the North Pole.

"Det," I hear, "Oi Det." I can't locate the strange, oblong voice, more of a nose whistle. Near me? but not inside me. I soon give up.
May 24, 2023
Of course the book she writes—the lesser book, the book about nothing—becomes a popular text, one that readers adore. When they ask her what she will write next, she says she is going to write the book over. Over? they ask her.
       Again, she says. She isn't really a writer, she tells them, she's a transcriber. She transcribes stories.
       Across languages? they ask.
       No, she says. That would be translation. I used to do that but stopped, she says. Now I transcribe. I take texts and transcribe them into another version of the same language.
       So you rewrite, they say.
       No, she says. You'll see.
May 18, 2023
For thousands of years, the peoples of the Marshall Islands have entertained a bustling interisland travel by canoe and small sailing craft without any of the tools—compass, sextant, nautical charts, and, these days, GPS—on which the rest of the world has depended. Within a purely oral tradition, Marshallese navigators developed a highly refined system of voyaging, relying entirely on their senses to decipher the subtlest of codes in the aqueous environment. Theirs has always been a world of waves.