Contributors
Connect
In Print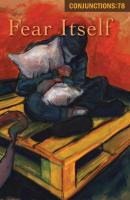 Fear Itself
Spring 2022
Edited by Bradford Morrow
Online
June 22, 2022
No, that's not it, that's not how it happens, it's—

—because I'm here, have been for years and years, in the backseat of the Oldsmobile 88, top down, wind enraged, tearing along some country road at night, Jackson drunk at the wheel, Ruthie by his—

—the world all quick nervous giggles and skinfizz, the whirled world, the world like leaves spinning in a crazy autumn gust, only it's not autumn, no, that's, it's what, it's—
June 15, 2022
THE SPEECH OF THE THIN KING'S MINDER

The thin king bound in the fiery hollow shook
The chain by which his left arm was suspended
And from a hatch that rattled open just

Above his right eye dropped a demon like
A glass-winged gerbil, who immediately
Began to stab the thin king's pupil with

A dripping claw, and said, Forgive me, king,
For my unwilling violence. I bite
My paws off, but they grow back while I chew

So that I wonder while I'm chewing, Is
This still my paw I'm chewing, and, forgive
Me, king, but that thought helps me swallow.
June 8, 2022
He decided he would die and then
drove through mortality,

a motorcyclist in heavy traffic. He
was afraid for his dog, which he had

loved and abused. The neighbor said no
to taking it, but he died anyway and

the dog—no one knows. Cigarette butts
and dogshit left in the litter of his lawn.
advertisement