Contributors
Connect
In Print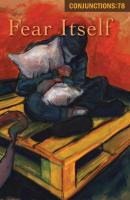 Fear Itself
Spring 2022
Edited by Bradford Morrow
Online
from between the lines of Another Love Discourse
July 27, 2022
Silence
 I thought I was good because I had borne the brunt of society's manhandling, because through halls
of terror I fled and gangs of girls followed me, seeking to press thumbs deep into
my arms, cheeks, back of my neck, thighs, because goodness lay heavy in the air around me, because
most around me were powerful underprivileged role models, I thought it good enough
to know and read vexatious histories and in my own private sanctum feel the pain, to dwell
in sorrow through theater and dance, that just by being around, goodness could rub off on a person
July 20, 2022
The island appeared in the playa –
            a thick family of vegetation in sand
            as if risen from the undulation of blued snow over
            grasses, purple. Huddling
            through time, as bodies green and dark
            in me knew better, yet compelled me
            to run from the tall thick house
            where I lay resting
            and take refuge from the wind
            where wind blew.
 
July 13, 2022
The feet trudge the path of the eyes.

Vouch for snow-covered trails skirted by galvanic tamaracks,
the previous fall's needles a carpet of #2 pins.

Vouch for garrulous waxwings captivating powerlines,
mesmerizing middle C and rising,
coloratura clouds.

Vouch for the rich acoustic world of moths
fallen silent, streets of pupal stillness,
bodies suspended in glycerol sleep.
advertisement