About Us
Newsletter
Get our weekly e-newsletter announcing new online content, upcoming issues, and events here.
Connect
In Print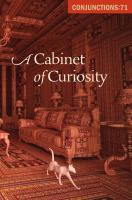 A Cabinet of Curiosity
Fall 2018
Edited by Bradford Morrow
Online
December 11, 2018
Cresting the fence, each leaf
sharply particular, edgy, nearly
identical to its kin.
December 4, 2018
I read somewhere that we brood when we're alone, we act when we're together. As in act in a play. But she wasn't acting, at least she didn't know she was acting. Or maybe she was a far better actor than he was.
A Selected Text from Conjunctions:71, A Cabinet of Curiosity
November 29, 2018
In this mariner's damp the lichen sprouts, or rather creeps, in the manner molds and kisses do, prurient. Slightly closer then farther toward and away from their undisclosed destination. Investigating, guarded, but unwilling to cease from exploration.
advertisement
advertisement