About Us
Newsletter
Get our weekly e-newsletter announcing new online content, upcoming issues, and events here.
Connect
In Print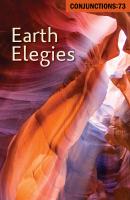 Earth Elegies
Fall 2019
Edited by Bradford Morrow
Online
December 10, 2019
It is nearly one thirty, lunch is over, and I am waiting for the afternoon mail. It is what I have to look forward to, the mail, the UPS box delivered to my cubicle each day. I do not have plans once the mail has arrived.
A Selected Text from Conjunctions:73, Earth Elegies
December 6, 2019
Where nostalgia is the pain arising from moving away from a loved place, solastalgia occurs without you going anywhere; it is the landscape that "leaves" from around you. The last decade—and especially the last two or three years—have seen an intensification and a globalization of this distinctive Anthropocene effect
A Selected Text from Conjunctions:73, Earth Elegies
November 29, 2019
Kintsugi, an ancient Japanese art form, entails repairing cracked pottery by reattaching the shards with gold lacquer powder mixed with the adhesive. This is done so that a warm glow appears to radiate from the jagged tracery made by the fractures between the glued parts, emphasizing the "scars" that define a critical moment in the history of the pottery piece.
advertisement
Monday, March 2, 2020
2:30 pm – 3:30 pm
Campus Center, Weis Cinema