About Us
Newsletter
Get our weekly e-newsletter announcing new online content, upcoming issues, and events here.
Connect
In Print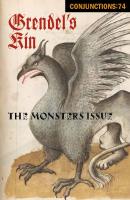 Grendel's Kin: The Monsters Issue
Spring 2020
Edited by Bradford Morrow
Online
September 16, 2020
An exhibit was all you wanted

and me to lay close
my face

like a film behind a curtain
September 9, 2020
When I thought of their home life, I pictured them hunched beside flame, firelight bringing out grime on their faces.

     Between my mother and grandmother, Mrs. Hufferman is always referred to as Lilly.
June 30, 2020
The bones and crosses left out for him an emerald

Cicada dying attended by ants the emperor's pleading face

All over town I dragged it behind me like a wing
advertisement
advertisement