An additional Peter Lorre poem and three additional drawings can be found in the print issue of Conjunctions:32.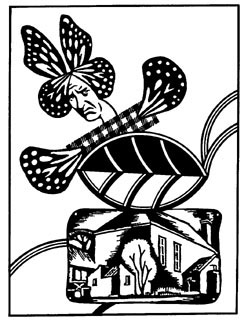 Peter Lorre Speaks to the Spirit of Edgar Allan Poe during a Seance
Back then which is anywhere in back of now
I was pretending to be a practicing mendicant,
a mower of smaller children, a moratorium in a tuxedo,
while you were acting like a hopeless sponge.
a photograph of a convict whose mind
isn't quite made up, but it is.
Later, I draped the last of my outer garments
over my jockey shorts, and left town in a cab.
I told the man whose shiny head
reminded me of a bottle of wine
Deliver me to the suburban rodeos of
Piccadilly or Paradise
a harbor of idle tugboats
an island of glass huts
wherever smoke hasn't started
charting its progress across a torn sky
Thus, the journal of our journey
began with the opening of faucets;
tear ducts; syrupy vittles; Arctic ice storms;
bowler hats above long thick sleeves;
white haired gymnasts and their smelly pets.
The detectives came later,
examples of their tarnished industriousness
tucked beneath their tongues.
Did you know that I was never called upon
by those who would have known
what I meant
when I said
I was a star,
a stage of deterioration,
a page upon which
someone has drawn
the seven shapes of my name,
their skeletal facades
pressing against deserted streets.
The rest of me—the part you know
as it is also you—
is sitting inside,
watching television,
waiting for further instructions on how
I might dig myself out of the roles
blind biographers have stuck me in
---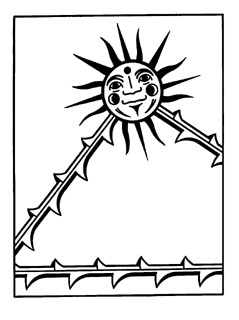 Peter Lorre Records His Favorite Walt Whitman Poem for Posterity
I am an indigestible vapor rising from the dictionary
you sweep under your embroidered pillow
My only offer: A kidnapped dog in exchange for your thirst
Call me Zanzibar Sam, Bulging Pharoah, Narcoleptic Swill
Custom labyrinths made to order, purveyor of mid-sized jungles
a gravedigger counting shoes in a candlelit saloon
A miracle erupted from a reunion of mouse and sow, horse and hubby
Son became bagged contraband penetrating ring of nibbled pyres
Me criminal puss no longer muzzled and mugged by snoring camera
Me signaled pasty or patsy, but donned smooth glacial twitches
Mere slip in a sequined slapper, lolling whimper of purring grape,
not just smoothed flotsam bulk and hankering moss
Inside me dwells a nude drummer toy, all pomade and fancy,
while the outer me, the bun you tufted, was heavy-lipped
reflection of uncanny twittering admists gnawed leaves