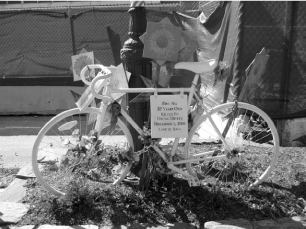 The first one I saw was on the corner of West Thirty-sixth Street and Sixth Avenue: a racing bicycle, painted completely white (tires, saddle, spokes—everything) and chained to a street sign ("Left Lane Must Turn Left"). Plastic flowers had been threaded through the wheels and around the crossbar. New York, that week, was hosting a clutch of art events so I assumed that the white bike was a spin-off from the Pulse or Armory art fairs; either that or a harmless bit of street art. Or maybe it was a prop belonging to one of those irritating mimes, like the ones you get in Covent Garden, presumably painted in matching white and performing nearby. But no, there was no human accompaniment, just this white bike with—I could see as I drew close—cards attached to the sign and to the crossbar:
DAVID SMITH
63 Years Old
Killed by Car
December 5, 2007
A memorial, then, but unlike any I had ever seen before.
The habit of placing flowers or other tributes at the scene of a murder or fatal accident is well established in Britain and America. Two new novels offer vivid essays in contrast between the default style of commemoration in London and New York respectively. For the East End–based narrator of Emily Perkins's
Novel about My Wife
these "tawdry plastic sheaths of flowers in memory of a loving color-photocopied mum or restless young chav who's got in the way of somebody's else's crack-fueled Stanley knife" are "a new form of urban decoration, mawkish post-Diana grief." The Lower East Side equivalent, as seen in Richard Price's
Lush Life
, is altogether more extravagant: "There were dozens of lit botanica candles, a scattering of coins on a velvet cloth, a reed cross laid flat on a large round stone, a CD player running Jeff Buckley's "Hallelujah" on an endless loop, a videocassette of Mel Gibson's
The Passion
still sealed in its box, a paperback of Black Elk Speaks, some kind of unidentifiable white pelt, a few petrified-looking joints, bags of assorted herbs, coils of still-smoldering incense that gave off competing scents, and a jar of olive oil." Just four nights later, this wild, neo-Kienholzian shrine is on its way to becoming visual compost. Already it seems "all wrong, sodden and charred, sardonic and vaguely threatening; as if to say, this is what time does, what becomes of us mere hours after the tears and flowers."
This bike, though, had advanced the practice to a far higher level of commemoration and artistic expression. With its poignantly flat tires the white bike was unmissable and yet, even in the crowded streets of midtown Manhattan, it didn't get in anyone's way. Robert Musil writes somewhere that nothing is as invisible as a monument; this unmonumental memorial was distinctly visible and yet so modest as to be
almost not there
. As they waited to cross the street, several people touched the bike: a casual version of the gesture made by Catholics of crossing themselves when they pass over a threshold. By virtue of the white bike a completely innocuous corner of Manhattan—one of thousands—had been imbued with a uniquely gentle aura. Perhaps I am being sentimental but it felt as if this was the safest intersection in the whole of the city.
I had no idea how the white bike came to be there or how it was regarded by the authorities. After a few more months would the chain be cut and the bicycle discreetly removed? Or would it be allowed to remain perpetually in the sun and rain, like the cars and bikes that have been left to fade, rust, and rot at Oradour-sur-Glane in France since the massacre that took place there on June 10, 1944? I assumed it was a one-off guerrilla action but, in the course of a week in the city, I noticed two more of these white bikes: at Houston and Lafayette, and on the Hudson bike path (in memory of Eric Ng, aged 22), right by the Pulse Art Fair:
ERIC NG
22 Years Old
Killed By
Drunk Driver
December 1, 2006
Love & Rage
So these bikes
were
part of an organized if unofficial campaign of remembrance. As far as I can work out, the first so-called Ghost Bike appeared in St Louis, Missouri, in 2003. The ongoing initiative is now part of a loose alliance of Web sites and organizations such as Visual Resistance and the NYC Street Memorial Project (another strand of which commemorates pedestrian fatalities). According to ghostbike.org there are now similar memorials in more than thirty cities across the world. I've never seen one in London but there are, apparently, ghost bikes in Manchester, Oxford, and Brighton. On the ghostbike Web site, Ryan, a volunteer, had written about the creation of the bike I had seen outside the Pulse Art Fair:
"I started making ghost bikes for strangers in June 2005. A year and a half later, my friend was killed by a drunk driver while riding on the West Side bike path. Eric was 22 and had just started teaching math in a Brooklyn high school. He was the kind of person that made you want to live a little more. A year later I still expect to see him when I show up somewhere. His death ripped a hole in my heart. When we make ghost bikes we tap into the hurt of the world. Each person is part of the soul of their city. These stories can make headlines one day and are forgotten the next—we try to make the city remember. We choose to honor that stranger we know could just as easily be our friend, our sister, our own self. That choice makes us whole."
As well as being part of a web of activist organizations, the ghost bikes can be seen in the context of the ad hoc accumulation of street art generally, from loutish graffiti litter to Banksy's ironic—now ironically iconic and commodified—stencils, to community-based murals. In civic ambition the ghost bikes are like a quiet and respectful aspect of the old Reclaim the Streets initiatives—except they proceed from the premise that the streets do not need to be reclaimed by confrontation, that they are
already
ours. But the bikes also throw into relief something about the inadequacy of much public art generally and "official" memorial art in particular.
At its worst, public art in Britain typically defaults to the level of the Norman Wisdom sculpture outside Edgware Road tube station or the justly derided couple kissing goodbye at St. Pancras. The fact that the latest round of proposals for the fourth plinth at Trafalgar Square included Tracey Emin's idea for a little group of sculpted meerkats as "a symbol of unity and safety" reconfirms what everyone already knows: that it is possible to gain a reputation as a serious and important artist on the basis of work devoid of seriousness or importance. With the odd honorable exception—Antony Gormley's
Angel of the North
, for example—most contemporary public sculpture prompts the viewer to echo the question posed fifty years ago by Randall Jarrell in
Pictures from an Institution
: Well, it's ugly, but is it Art?
Rituals of remembrance now come freighted with worries about whether they will be properly observed. As the singing stops and the players find their spot "around the ten-yard circle that until / tonight seemed redundant" (Paul Farley, "A Minute's Silence"), the possibility that homage will turn to insult hangs over football stadiums like a threat of terror. State-sponsored memorials like the Diana fountain near the Serpentine are distinguished by their failure to give voice to the sum of individual feelings they are designed to articulate. In Britain one has to go back to the numbed aftermath of the First World War, to Charles Sargeant Jagger's statue of a soldier reading a letter at Paddington Station (by platform 1) or to the Cenotaph (designed by Sir Edwin Lutyens) on Whitehall to find memorials of high aesthetic quality that are also in step with the needs of a grieving populace.
Most deaths, of course, cannot be expected to be recorded and memorialized on the official monuments of a large city. Nor should artists be required to devote themselves to creating anything other than exactly what they feel like making at any given time. But the hope that the larger needs of society might coincide with the deepest, uncoerced urges of the best artists can never be entirely extinguished. Perhaps it is a sign not only of the solipsism of the contemporary art world but of a wider social failing that it is on the margins—and beyond—of the competitive, hedge fund–powered art market that one finds evidence that art rather than being an amusing diversion or a profitable investment might be integrated with a broader goal of social progress. The flip side of the art boom of recent years has been that one notion of value—cash—has become so engorged as to have caused other, ultimately more valuable, ones to wilt. This is not to hark back to the earnest early 1960s when John Berger, then art critic of the
New Statesman
, was content to ask a single simple question of any piece of art: "Does this work help or encourage men to know and claim their social rights?" Nor does it date back to the heady days of the Bolshevik Revolution when artists eagerly put their shoulders to the Soviet wheel that would eventually break them. No, this takes us much further back, to the prehistoric dawn of art and of human consciousness, to the realization that, as Lewis Mumford famously expressed it in
The City in History
, "The performance of art itself added something just as essential to primitive man's life as the carnal rewards of the hunt."
The
Temple of Tears
and the
Temple of Joy
were created by David Best at Burning Man in the Black Rock Desert of Nevada in 2001 and 2002 respectively. Made out of the wooden offcuts from a toy factory, these huge, Balinese-style structures were constructed by changing teams of volunteers in the course of the week-long festival. As the temples were being built, people left photographs and keepsakes, or wrote prayers and messages on the wood to loved ones who had died. With the understanding that suicide places the greatest burden on the ones who are left behind to mourn, the altar of the
Temple of Tears
was dedicated to those who had died by their own hand. Needless to say, there were no notices or guards stipulating appropriate behavior. (Solemnity, it is worth remembering, is usually a form of decorum, a way of behaving that is entirely compatible with a
lack
of feeling.) The boom of sound systems could be heard in the distance; people wandered through in their wild, sex-crazed costumes, but the atmosphere of compassion and kindness was palpable—overwhelming, in fact. In scale and intensity of effect, these temples were comparable to Lutyens's memorial to the Missing of the Somme at Thiepval. The difference, of course, is that whereas Lutyens's monument was built to last, the temples were built in order to be ceremoniously burned within days of their completion. In a postreligious culture that lacks appropriate rituals of grieving and mourning—and the solace that such rites provided—there was something perfectly appropriate about this: a memorial predicated on transience, a work of art that was absolutely inseparable from the temporary city and the community it was designed to help and to please.
In their less spectacular, more modest—and, already, more lasting—way, the ghost bikes do the same thing: honor the dead, delight the living, make the world a safer, nicer place. If that is too humble a definition of art, then one wonders why it is so rarely achieved elsewhere.
Postscript: A friend who was in New York about a month after I was sent me a picture of the first ghost bike I'd seen, the one on Thirty-sixth and Sixth. It had been completely vandalized: wheels buckled, signs and tires torn off. This was sad, but in a way the mangled bike looks even more poignant than in its original pristine condition.