… The subject is quieted when the object ceases.
In the first act, she will be dressed in faded gardening clothes, a scarf around her head. She will be a comfortable and lively woman. She will give a modest tour of her rooms, her art, relating graceful anecdotes along the way. She will give you a seat by the window and a nice cup of tea. Together, you'll look out on the garden and even see, in the distance, the empty air over the water.
… it explains why I have had unmitigated failure in that one area in which my whole existence might find rest …
In the second act, she'll find herself alone again in the house. Loneliness is insufferable to her, though she tries her best to disavow this feeling. She would like to believe in self-sufficiency, that she can always, that she must always be vigorous within her own soul. But she needs people. They distract her from the dark business of living.
… She knows the three poisons are like foams appearing as it so happens to them …
In the third act, her books are the root of her memory. One night, in a rage of despair, she took upon herself some kind of ritual that demanded the burning of the most precious of her books and writings. A small fire in the oven had already claimed three or four works when, with two more thrown in, she started with fright, and reached both arms in after the volumes.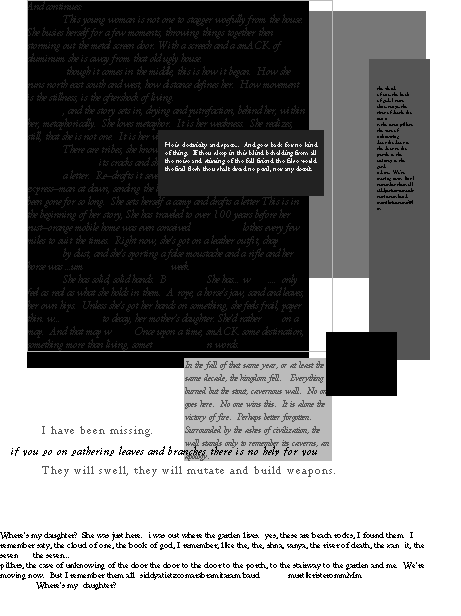 "I'm here," she says sometimes. But here is nothing. Here is nowhere. This is oblivion. Cream and terra cotta oblivion, echoing rattling oblivion, sharks and worms oblivion, porcelain white oblivion, ceiling daylight, ceiling morning light, ceiling night, ceiling darkness, ceiling shadows, ceiling sunset.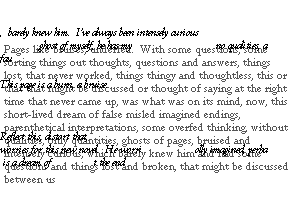 And out again.
There's a light on up there—or a candle lit, or a fire burning.
And out again.
1. A slim view of the outside world. A noisy place confounded with offices, kitchens, cafeterias, TV lounges, waiting areas, bathrooms, washrooms, laundry carts, footsteps, telephones. At this hour, no lights are on along this side of the building.
2. Larger windows, great wooden shutters. Colored desert pink, railings, bathtubs, toilet seats, window sills. Colder than the first floor, everything is just a little moist up here. No lights but the glow of an alarm clock.
3. Dark entirely. The story never goes here. In the stairwell once, looking through a long rectangular chicken-wired window you saw an old woman, or maybe a man, dressed up in pajamas with little bows on both shoulders. She was chewing something large, rhythmically, watched it go by like another ship in the night.
4. Even more narrative up here. There's some kind of light. David is up here, stolen away with a book or with a typewriter, or it is someone else's room and they are waiting for you to rescue them, or,
your absence has been detected,
and its return is too late to forgive. The front gate would be locked. Once inside it is surprisingly difficult to find the one lighted room. The empty halls unnerve it, compounding the story's frustration.
"David?" No, of course not. —> David? "You think of
He's dead. " what
<— "David?" "And when he —> David —>
a rustling of pages catches your attention "David?" <— swelling up and down
the hall
David* is a dream in words,
little letters and brittle syllables, bubbling strings of protein
, broken DNA. From deep in his chest, fumbling around in his ribcage, pulls out a poem.
"But here," This David trembles, an oily piece of lined paper in his hand. A poem like a beast of burden.
"Oh, my, thank you. I'm so pleased you are working again."
"I hope you'll indulge me and read it back to me a few times—I can't read a line without
losing my place or forgetting where I started … so—"
"Sure, sure … " The story gives him back his smile

Perfect recall: From a journal to a book to a poem to a novel. The flesh becoming, The flesh beautiful, the speaking flesh, folded flesh, a word: ———>
<———There to here, an ancestor to itself it disappears and reappears. A character becomes a landscape. A thought becomes an action. An action becomes weather, moisture, a breath.
Fragments of event on the path reveal her difficult journey. Little chips of glass, stray hairs, a torn garment, a drop of dry blood, a crumpled half-written letter, abandoned campsites and disheveled motel rooms, the tangential anecdotes of city-dwellers, small tips left in ancient currency, love stories, philosophical debates, peculiar fictions, broken spines. With ease the story could slip away into any of these, into a lonely housewife's tired hands, a young woman's rising shoulders, an old man's withering elbow, or an image.
"Tell me a story," something to draw me in, continuing toward it.
smiling, maybe, a shy speculation, like a brief moment of recognition in a dream, this is a dream
unfeathered, breathless bird