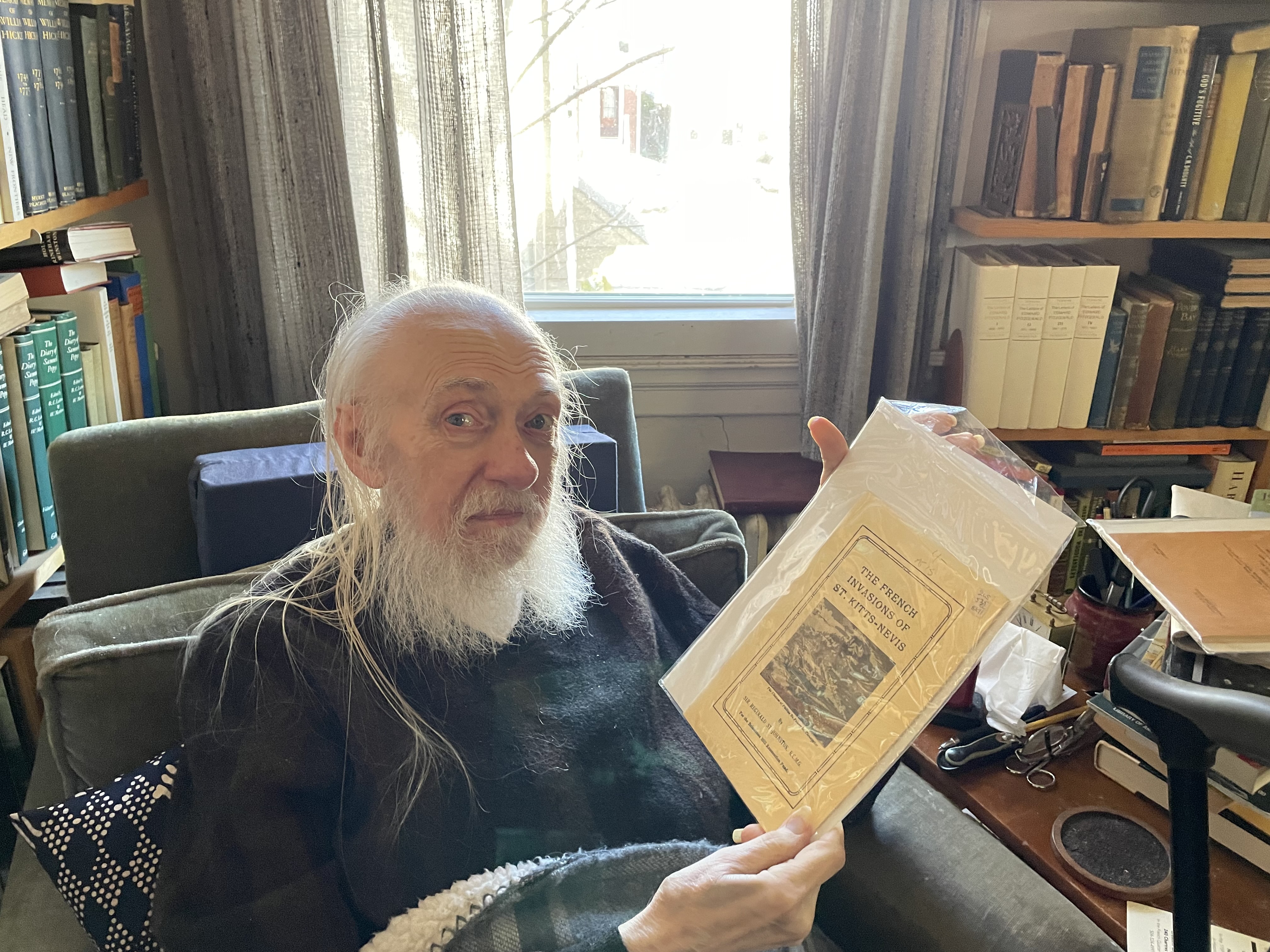 Keith Waldrop
(
December 11, 1932—July 27, 2023
)
will long be remembered for his kindness as a man, for his generosity of spirit, for the nuanced beauty and disarming simplicity/complexity of his poetry and translations, for his tireless work with Rosmarie Waldrop at their influential Burning Deck Press, and for his inspiring and magical (for Keith was purest magic) presence in the lives of his friends, fellow writers, students, anybody who was lucky enough to know him.

All of us at Conjunctions mourn the passing of this brilliant friend and longtime contributor, whose first appearance in our pages dates back to Conjunctions:6 in which we published "Six Studies for Hegel's Family." His work appeared in some ten subsequent issues over the years, always bringing his grace, insight, and vision to our readers.

Keith made a profound impact on innovative contemporary literature. He was really and truly one of a kind. Our condolences to his partner and wife of over six decades, Rosmarie, whom we would like to thank for letting us share these two unpublished poems of his left upon his passing. Rest in poetry always, Keith.

---
Disappearing Ink

as the snow

piles
remembers surprises a

thousand years





before to-
morrow's
sun no

sunlit (dramatic
variation) governed

by tilt by

temperature

composition
of dust, dream of never

another daybreak, long silence, a

shiver
open on

faster, a
tumult





clenched hand, then let
fall, covering face with
sigh

focus on air, fine
particles in air
everybody betrays every

imaginary lines, imagined
rules, surface of
the sea

until

when I look again, memory tran-
scending

viewing the battle
from a silver-footed
throne, light
bent into shape

disturbances inside
outside
walls





ladder

where the appetite
hiding

there is not
always an oracle

Chaldæans I
confess have

told me

nothing





pass, leaving behind

nothing





uphill
walk and coastline, waters, all

names, beating

windward, ancient air freshly


fallen

flickering, opposite

as if the world

opposite
---
Eighty-Eight Afters

after the battle
after a war and a light lunch on the terrace
after the arctic
after the formation of deserts
after I sit in the dark (I see nothing)
after the anti-planet or dark sun
after the reign of caprice
after another possible title
after a "pointless vegetable existence"
after incarnation
after Carpenter, page 7
after windblown sand
after the something-I-know-not-what
after boughs of elm
after bows of elm
after live yew
after dead heartwood
after inside
after one mind
after outwardly white
after inward red-orange
after sedimentation
after all these
—shape
—color
—outline
—extension
after cold, dense, dry, fluid, heavy, hot, rare, resistant, soft
after "inner light"
after the burden
after a false name
after no questions
after, as I said before, the battle
after soul
after the need of body.
after herself
after every moment
after herself at every moment
after the honey of her sweetness
after her face
after delicacies
after the body's needs
after food and delicacies
after a whole life from the very beginning
after eyes
after moaning
after hands
after hands with grief
after tomorrow
after religion
after boredom.
after the hours (tedious and tasteless)
after Whitehead
after time told
after compression or tension
after she started to her feet
after dependent origination
after that, as it may be
after dry rivers
after available food
after unavailable food and drink
after echoes of origin
after legion
after swine
after atmosphere
after only
after always
after wealth (worth?)
after idealized versions
after Atlantean memory
after the speckled bird
after existence
after comparatives
after a plant
after the radius
after the outer rim of the flower-head
after proof
after Pandora
after nature
after growing
after being two
after saving daylight
after in between
after wrought iron and mild steel
after the immense extension of railways
after chain
after ladder
after plot
after thickening
after abstraction
after surface
after the principle of constancy