Contributors
Connect
In Print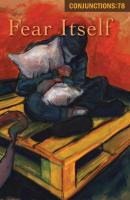 Fear Itself
Spring 2022
Edited by Bradford Morrow
Online
May 18, 2022
Still Life With Flying Sombreros

Three sombreros hung on pegs in a cantina, where their owners stood at a bar, soaking in the tequila. The sombreros got to talking and soon discovered they all despised their owners. "My man," a sombrero said, "came home drunk every night and beat his wife and children with a hard stick he kept just for that purpose." Another sombrero confessed that his owner sat on a porch and shot cats that had strayed into his garden. He skinned the cats and displayed their pelts over the fireplace.
May 11, 2022
                                  1.

Someone nodding, and the light pressing down
as though it had weight.
And right in the middle of what I want to say
there's a long row of chairs. There are green,
red, yellow arches that gradually contract
and close, like doors.
Like a disease whose threshold no one can cross,
she says.
May 4, 2022
Once upon a time, there was only Olga and me, as well as our old dog, Boji, in a big house we inherited from our parents, whose food we had slowly been poisoning in a span of at least a year. Our parents blamed their "chronic illness" on inclement weather, on the "heathens" who played rock music next door, sometimes on "cursed" and "possessed" appliances and furniture.
advertisement