Contributors
Connect
In Print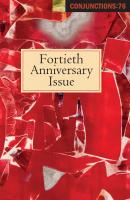 Fortieth Anniversary Issue
Spring 2021
Edited by Bradford Morrow
Online
May 12, 2021
Like the ancient glass marked

with fleck and mottle. But O—
her silver likeness. Long forsaken

the mirror: the edges, now light moves
straight through. Shrug or shudder.
 
May 5, 2021
Because they're in Florida, their position on the terrace is glorified with a gigantic orange ball sinking into serene water, streamers of pink snaking along the blue, the whole thing so … so … validating? And the pelicans! "Look, dude! Pelicans!"

"You can't shout 'Pelicans!' every time we see pelicans. We're in Florida, babe. There's tons of pelicans."

"But that's the point …" the equestrian's former friend muses.
April 28, 2021
Fire hurtles past on both sides bubbling black
At the edges. He wakes to a solitary yellow line
Glowing desolation. House truck dog are gone
Evaporated into red sky and patchy earth, snags
Decorate the darkness. Out of his scars grow
Thin buds. Imperfect impermanent incomplete,
He falls back as if falling into a pool, arms out
advertisement
advertisement