Contributors
Connect
In Print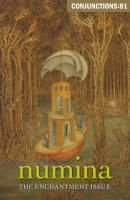 Numina: The Enchantment Issue
Fall 2023
Bradford Morrow
Online
November 29, 2023
The greens—myriad, viridescent: 
every one of them alive.
November 22, 2023
HE WENT DOWN THE STREET, his old street, on a whim, and then the whim birthed another and he turned
[...]
November 15, 2023
    Curious spirits, Eleanor says. I cannot discern that these spirits around you have a personal connection to you, by which I mean, I cannot discern the emotions common to relations and loved ones, like love or concern. These are spirits who you do not know. I don't know why they are gathered around you. Maybe they are just passing through and something about you has detained them for the hour, for the day.