Contributors
Connect
In Print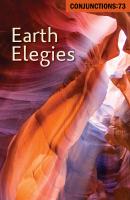 Earth Elegies
Fall 2019
Edited by Bradford Morrow
Online
March 31, 2020
in the pharmacy of the child
one used a hopscotch stone
a jacket zipper one's tongue
the sharper tongue of a friend
anything to get one's soft skin back
March 17, 2020
1.

Because he could picture himself curled up on the shelf of the refrigerator between the bread and the light.

2.

Because he stared up at the sprinkler attachment and thought of it as a metal flower.
March 10, 2020
Mears takes your name. As soon as you say it, he speaks it in quick echo, and it is now his and no longer yours. We don't know what he does with it or what it does for him, but we do know what happens to those he pilfers.