Contributors
Connect
In Print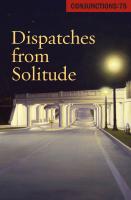 Dispatches from Solitude
Fall 2020
Edited by Bradford Morrow
Online
January 27, 2021
Here we are, then, in a typical Mediterranean village, sometime between the end of the last world war and shortly before the next one begins. There's no obvious reason to think trouble is imminent. In the eyes of an ordinary tourist, everything looks lovely: the colorful, lopsided buildings packed on hillsides above the sea, the slopes lined with abundant vineyards and olive groves, the flowery vines spilling over fences. How could anyone not be happy here?
January 19, 2021
. . . a well-perfumed friend, wise both
in the olfactory and in love, taught me
to spray with economy, to wear scent
as a private pleasure, evident only to
a lover in kissing distance.


 
January 11, 2021
One's opportunities to be unhappy are

Unlimited.     Or limited, but only by

One's own imagination, which is powerful

But fragile, is defenseless,     but is limited

Only by things unseen.     As Bark Psychosis did it
advertisement
advertisement