Contributors
Connect
In Print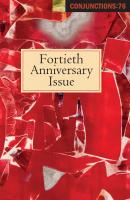 Fortieth Anniversary Issue
Spring 2021
Edited by Bradford Morrow
Online
July 21, 2021
"Well, technically batshit," I'd tell him, and I'd remind him that, seeing as we were trapped in this cave—"Cave?" he'd say, and I'd say, "Yeah, the cave we're recovering from eye surgery in," and he'd say, "Oh right"—and that seeing as we'd be thus—"pardon the expression," I'd say—interred for at least as long as it took to recover, that the cave would be, for all intents and purposes, what we'd have to mean, from here on out, by the word world; and thus bats, who were the only creatures still flitting in and out of the cave's narrow apertures and thereby participating in the larger ecosystem and importing to an otherwise inhospitable environment the most basic elements needed to sustain life, their excretions would need to be, for the foreseeable future, what we'd have to mean when we'd say sun.
July 14, 2021
And all manner of head swerves.
Three people flew past me, but did not see.
It's not even clear what happens to the chicken on the bobsled.
 
Trails . . . that slither with their cake.
Will you have more?
May 26, 2021
I remember how, when we got word that it was okay to emerge, my parents opened the front door. My mother was holding an aluminum baseball bat, my father had a shovel. The three of us were in our hazmat suits. (Mine had grown a little taut. I was eleven years old and had gotten taller and rounder.) Our breaths were trapped in our masks.

How long had we been indoors? Time was hard to figure. It had been well over two years. But had it been three?
advertisement