Contributors
Connect
In Print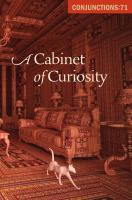 A Cabinet of Curiosity
Fall 2018
Edited by Bradford Morrow
Online
Reproducing the Unknowable
April 23, 2019
Our wombs are for many of us unknowable until inhabited, made knowable by the inside taps at the doors and walls of our bodies, our centers of gravity shifted, our balance of weight and even of power redistributed, disturbed, sleep-deprived, and pushed up against furniture we used to slide easily by.
A Selected Text from Conjunctions:72, Nocturnals
April 18, 2019
The first time I crossed the equator, I stopped for a photo. People usually do. I had come to work in a small clinic in a coffee-farming village in southwestern Uganda, just to the south of the world's belt. I grew up in the midlatitudes: long summer days and long winter nights, the swing of light and dark like a rocking hammock. I thought of the equator as a human idea—a line on a spinning globe. Its tyranny was a shock.
April 16, 2019
In the first dream, the dog is disguised as a cat.

In the second dream, when I pet him, the dog turns into chocolate.

In the third dream, the dog is a ball of dirty yarn which I scoop up
and lay over my chest to muffle the sound of my rapidly beating heart.
advertisement