Contributors
Connect
In Print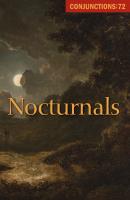 Nocturnals
Spring 2019
Edited by Bradford Morrow
Online
August 13, 2019
   Tinfoil-hat alert: I asked God for more,
sharpening my quills and gathering reams of paper to write books
     as an antidote to all I was not!
August 6, 2019
After my grandma died, my uncle had their dog Lady euthanized. I'm not sure why. My grandfather went into assisted living. My uncle took over the farm. He rarely invited anybody over.
July 30, 2019
Sandy Szymanski was worried that she was turning into a duck, but the worst thing about her predicament by far was how nobody seemed to care. "Eh, I doubt it," her landlord said when he came to inspect the transom window through which some hooligan had thrown, overnight, a bottle of Pabst Blue Ribbon.
Monday, October 28, 2019
2:30 pm – 3:30 pm