Contributors
Connect
In Print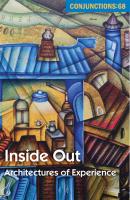 Inside Out: Architectures of Experience
Spring 2017
Edited by Bradford Morrow
Online
October 10, 2017
Let me say this one thing, that the meteor is a woman of varying biologies and the crocuses are rising up. In only three words I can convey a schism: x, y, z. Insert here for pleasure.
October 3, 2017
Here is Pitkin Plaza, three boys
sharing a cigarette, antibodies
bound to platelets that fuzzed-out guitars
in headphones eliminate.
September 26, 2017
Once upon a night, she landed
On an airstrip of impotence     Whoosh!
advertisement
The celebrated author reads from The Zookeeper's Wife
Monday, October 30, 2017
2:30 pm
Campus Center, Weis Cinema