Contributors
Connect
In Print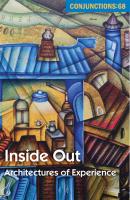 Inside Out: Architectures of Experience
Spring 2017
Edited by Bradford Morrow
Online
August 15, 2017
He ties a bell to her ankle, but she removes it in her sleep. He ties one of her wrists to the bed frame with twine, but she loosens the knot with the other hand and slips out. That night she wakes upside down, slung over his shoulder.
August 8, 2017
A dancer dragging her arms across the stage, slapping feet through a watery pool
            panting from a bent body
August 1, 2017
One: he must leave at night. Two: he must come back the next day immediately after dark. And three: he couldn't tell anyone where he worked, couldn't discuss what happened in the prison at all.
advertisement
advertisement
The fourth reading in the Cities Series, presented by Conjunctions and the Bard Office of Alumni/ae Affairs, takes place at Myopic Books in Chicago
Saturday, August 26, 2017
7:00 pm
Myopic Books, 1564 N. Milwaukee Ave., Wicker Park, Chicago