Contributors
Connect
In Print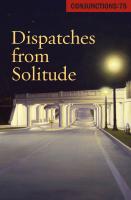 Dispatches from Solitude
Fall 2020
Edited by Bradford Morrow
Online
December 3, 2020
The elevator door gapes open. The girl with her hair in her face shuffles in, peering shyly over her shoulder. The panther who is actually a dog whisks past, huddling in a corner. 

The Patron of the Arts steps away, bowing us in. 
November 25, 2020
The smell was profound, suffocating, singular. My skin and clothes stank until I washed them; I had to stop at a gas station and wet my shoes under a faucet and scrub them with disintegrating Kleenex because the smell hung so potently in my car. It was dead fish and bird droppings and the bottom edge of a body of water, brought to the light and baked too hot. I once visited a blooming corpse flower at the Huntington and it smelled alive, at least. This was death of a hundred kinds braided together.
November 18, 2020
Where there is no fact, there can be no consolation. 

We chose to be plural in the presumed grace of what

is presumed to be moving in the dark. 
advertisement
advertisement