Contributors
Connect
In Print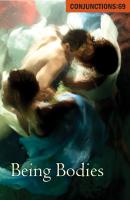 Being Bodies
Fall 2017
Edited by Bradford Morrow
Online
December 12, 2017
O moon my pin-up,
how I wish I were a woman frescoed

in a loose dress, pulled by the hair
to heaven. Or Titian's voluptuous Virgin

rising above everyone who tries to touch her.
November 21, 2017
My neighbors convened a kangaroo court. The charge against me was stealing newspapers. I contended that after 9:00 am they were artifacts not news and were therefore fair game under international archaeological conventions.
October 31, 2017
Like you were always
waiting in line for something
just vaguely wanted. What makes us

more human than waiting.
advertisement
advertisement

Approximate deadline:
Thursday, February 1, 2018