Contributors
Connect
In Print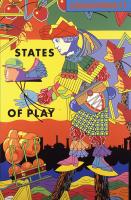 States of Play: The Games Issue
Fall 2021
Bradford Morrow
Online
November 17, 2021
I fell asleep with my girlfriend's head on my shoulder, but woke to a too-familiar absence—one that had somehow followed us down all those highway miles—her body a shadow on the other bed that could have belonged to anyone, could have been an axe murderer for all I knew, but I just closed my eyes and willed whatever future was coming to hurry, I was tired of waiting for it. On my second waking the sun was shouldering its way into the room through the crack in the curtains, my girlfriend now missing from both beds, and the room was made strange by her disappearance so that I flung myself out from under the covers. I found her in the bathroom with her hands on either side of the sink, the water running and There's something wrong with it Liv she said.
November 10, 2021
        The fathers drowned and scientists were baffled.
          All over the world fathers met their end in water. Fishing fathers drowned in rivers, swimming fathers drowned in lakes, tanning fathers drowned in backyard pools. Bathing fathers drowned in tubs and surfing fathers were sucked in the sea's undertow. Fathers panning for gold drowned in creeks. A father was found dead with his head in an overflowing sink near dishes slick with syrup from breakfast. A father in a bathrobe was discovered face down in a puddle in the parking lot of a department store. Deep within a national forest, a father was found upended with both black rubber boots stuck up high from a primitive outhouse's chamber hole. He would have looked funny if he weren't dead.
          Fathers in other countries, fathers of celebrities, rich fathers, poor fathers, fathers only known in passing, cherished fathers, stepfathers, fathers of strangers and fathers of friends. They drowned and drowned.
November 3, 2021
   The day you told me the world was ending, you had inquired about a particular scent for treating your mother's lapses in memory (further complicating the matter by saying that your father, the primary witness to her memory loss, was also deteriorating himself). I assured you there was no such perfume.

            As a joke or token of consolation, I showed you a favorite scent of my mother's, which had played no small part in enchanting my father. It was a perfume heavy with middle notes, or heart-notes, as we call it, which take longer to dissipate. It had no medical basis for treating pre-existing memory loss, but the scent alone was potent enough to provide an olfactory anchor at the moment of inhalation—a perfumed time-stamp. 

            Of course the world was ending, I said. Everything was always ending. 
advertisement