Contributors
Connect
In Print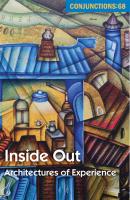 Inside Out: Architectures of Experience
Spring 2017
Edited by Bradford Morrow
Online
October 17, 2017
Cycles of sleep and waking. Birds migrating from cold region to warm. The rate of polar ice melting. Or the beat of iambs or the subtler pulse of prose.
October 10, 2017
Let me say this one thing, that the meteor is a woman of varying biologies and the crocuses are rising up. In only three words I can convey a schism: x, y, z. Insert here for pleasure.
October 3, 2017
Here is Pitkin Plaza, three boys
sharing a cigarette, antibodies
bound to platelets that fuzzed-out guitars
in headphones eliminate.
advertisement
The celebrated author reads from The Zookeeper's Wife
Monday, October 30, 2017
2:30 pm
Campus Center, Weis Cinema