Contributors
Connect
In Print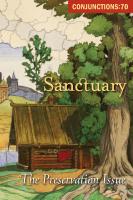 Sanctuary: The Preservation Issue
Spring 2018
Edited by Bradford Morrow
Online
November 13, 2018
8:00 p.m. in this perpetual night shift, and we talk again to the person inside the photo booth, you know, that one photo booth that tunnels all the way down—or up, depending on where you are—to that familiar place where all afterlife and underworld mythologies owe their artifice, the predictability of salvation they purport to deliver.
A Selected Text from Conjunctions:71, A Cabinet of Curiosity
November 8, 2018
A grown-up man not unlike me is trying to coax a struggling child into a box. That's badly phrased and only a single sentence in we are in need of starting over.
November 6, 2018
There were parts I recognized.

I saw by night a man riding a red horse and he stood among the myrtle trees in the bottom and behind him were red horses, sorrel and white. My Lord what are these?
advertisement
advertisement