Contributors
Connect
In Print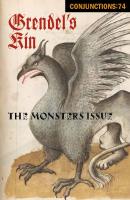 Grendel's Kin: The Monsters Issue
Spring 2020
Edited by Bradford Morrow
Online
October 21, 2020
Send more Chuck Berry, went the joke—how the aliens would reply when they got their first spin of the Golden Record on the Voyager. Sweet, friendly aliens with toe-tapping rhythm (whether or not they had feet), an appreciation for sweat and guitar riffs pooling together even if they had no first-hand experience with either.
October 14, 2020
I like the black & white. I like
the mirage they create. I like
            planes. I like stray dogs
who never forget where I come from.
(Ashram, North India)
October 7, 2020
The woman knocking on my door has a dilemma. She only has x-amount of time per day to dedicate to prayer. So, on whom should she focus her prayers? The migrants who are starving, the people with the virus, or those of us stuck here? If us, which one of us? How much should self-interest factor in? Should she pray the most for the woman with the slight heart condition or the woman she most wants to leave the ashram?
advertisement
advertisement