Contributors
Connect
In Print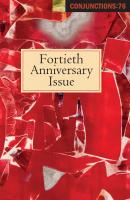 Fortieth Anniversary Issue
Spring 2021
Edited by Bradford Morrow
Online
September 22, 2021
The cockatoo
was kept in a kitchen
drawer All her life
           
in a drawer Kept there
by a
What would you call
           
The bird is
bald She plucks
her feathers Her skin

is reptilian
bleeding Parrots
call one another

by distinct sounds My name
means strange stranger
foreign The cockatoo
 
shares it Parrots
August 11, 2021
The property consisted of a small washout pond, several tin structures, and a ranch house with a wraparound porch. The landlord was a tall tan man with silver hair and great big hands, impressive even in his early seventies. He spoke in fast and stuttered rhythms that made me want to clutch the dirt and hang on, but walked at a pace which indicated there was no other place he'd rather be in that moment than with me, touring his property, him explaining to me his rules.
August 4, 2021
I spot wind at the Texas inn where 
my brother plays charcuterie, his head glowing with sweat.

As he peers into the cheese, my oblong sister
offers her face to violent vegetarians

and prognosticates the part about the bison;
indeed, this bison will have denied paradise to us

before we have even eaten. 
advertisement