Contributors
Connect
In Print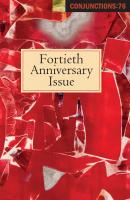 Fortieth Anniversary Issue
Spring 2021
Edited by Bradford Morrow
Online
May 26, 2021
I remember how, when we got word that it was okay to emerge, my parents opened the front door. My mother was holding an aluminum baseball bat, my father had a shovel. The three of us were in our hazmat suits. (Mine had grown a little taut. I was eleven years old and had gotten taller and rounder.) Our breaths were trapped in our masks.

How long had we been indoors? Time was hard to figure. It had been well over two years. But had it been three?
May 19, 2021
his bright impatiens in their beds, apple trees,
            to which he earlier rose on his cane and leaned

until among their snow blossoms alongside the bees,
            surrounded in floral-sweet fragrance,

from where your father says, And, no one wants you to be
            bitter.
May 12, 2021
Like the ancient glass marked

with fleck and mottle. But O—
her silver likeness. Long forsaken

the mirror: the edges, now light moves
straight through. Shrug or shudder.
 
advertisement
An evening of readings from Conjunctions:76, Fortieth Anniversary Issue, presented by Elliott Bay Book Company
Wednesday, July 7, 2021
8:00 pm – 9:00 pm
EDT/GMT-4
Online Event