Contributors
Connect
In Print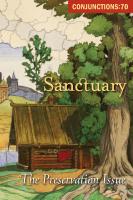 Sanctuary: The Preservation Issue
Spring 2018
Edited by Bradford Morrow
Online
October 23, 2018
Even though I was a couple of floors below on the sidewalk, I thought I recognized her from long ago when I, or we, lived in another country. But I heard she'd died—nothing confirmed, but I'd been told as much, and yet, what do you do with this but try to forget that the person is real, forget that they may still be moving through life.
October 16, 2018
The knife was raised
before there was an after.
He cried out, "Stop, stop!
"My name means laughter."
October 9, 2018
It was his mother's necklace, so it had value to him, more value to him than probably to his wife. It was meant for a woman though, so he couldn't wear it.
advertisement