Contributors
Connect
In Print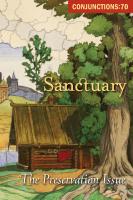 Sanctuary: The Preservation Issue
Spring 2018
Edited by Bradford Morrow
Online
A Selected Text from Conjunctions:71, A Cabinet of Curiosity
November 15, 2018
After the sudden death of my employer, I was tasked with overseeing the transfer of his personal library. The books would travel from his studio in New York City to an arts foundation in Italy, where my employer had once enjoyed a long and productive stay, many years in the past.
November 13, 2018
8:00 p.m. in this perpetual night shift, and we talk again to the person inside the photo booth, you know, that one photo booth that tunnels all the way down—or up, depending on where you are—to that familiar place where all afterlife and underworld mythologies owe their artifice, the predictability of salvation they purport to deliver.
A Selected Text from Conjunctions:71, A Cabinet of Curiosity
November 8, 2018
A grown-up man not unlike me is trying to coax a struggling child into a box. That's badly phrased and only a single sentence in we are in need of starting over.
advertisement
advertisement