Contributors
Connect
In Print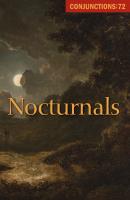 Nocturnals
Spring 2019
Edited by Bradford Morrow
Online
June 25, 2019
In the language of carbon wealth I sang myself into shape. May the pieces fall in accordance with natural law, I thought, and the world will slide into place. Complicity was as capital in the vernacular of the times, so my counsel sold to blight-ridden conifers desperate to restart life.
June 18, 2019
After Giantess declared her love, and conditions were set by Moon—build me a silver body, attire me, hinder my roll through space to attach the silvery limbs
—the two outliers danced until lightfall, where, on Venus, each day is longer than an Earth's year. And dance on and on they did.
June 11, 2019
"I wanted ours to be a perfect
union," he tells us at the table in the back, candle out.

"I wanted every desire to be balanced, exactly,
by generosity. And stasis to be a form

of flight. But I was yammering
in my sleep.
advertisement
Monday, October 28, 2019
2:30 pm – 3:30 pm