Contributors
Connect
In Print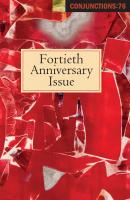 Fortieth Anniversary Issue
Spring 2021
Edited by Bradford Morrow
Online
October 20, 2021
Launch

codes, we stripped species,
            our insecure
hands of gloves
to crack the test           to our capitalizable
future. Pray
            for the multiverse I'm working on
at midnight.
October 13, 2021
Forgive us. We were waiting
here, in the thickening ice. We worked a long time. Now
we try to give what we found, a little basket
hiding behind each back, full of the young shoots.
They are so green. Mercifully green. We say so. Yes,
they are alive, we say. We, too. We are still sick.
October 6, 2021
Friday night, and you have done the unthinkable. You've taken your father's Jackal Ghost bowling ball from its locked hard-shell case under your mother's bed—the ball that looks like a purple and black version of the earth, a jackal's head rising from the swirls—and gone to meet Teddy and Zeke and Evan and Marya, most importantly Marya, for a night of bowling, the game your dead father was obsessed with: the game that, according to your mother, ruins people.
advertisement