Contributors
Connect
In Print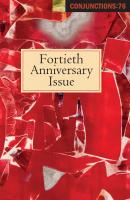 Fortieth Anniversary Issue
Spring 2021
Edited by Bradford Morrow
Online
July 28, 2021
Sanjay's stepmother enters the dining room and
his monitoring bracelet records a flutter in his pulse.
Dr. Cameron shows the assistant how he applies
an electrode to the surface of the patient's brain.
She sees a mountain blow away like it's sand.
July 21, 2021
"Well, technically batshit," I'd tell him, and I'd remind him that, seeing as we were trapped in this cave—"Cave?" he'd say, and I'd say, "Yeah, the cave we're recovering from eye surgery in," and he'd say, "Oh right"—and that seeing as we'd be thus—"pardon the expression," I'd say—interred for at least as long as it took to recover, that the cave would be, for all intents and purposes, what we'd have to mean, from here on out, by the word world; and thus bats, who were the only creatures still flitting in and out of the cave's narrow apertures and thereby participating in the larger ecosystem and importing to an otherwise inhospitable environment the most basic elements needed to sustain life, their excretions would need to be, for the foreseeable future, what we'd have to mean when we'd say sun.
July 14, 2021
And all manner of head swerves.
Three people flew past me, but did not see.
It's not even clear what happens to the chicken on the bobsled.
 
Trails . . . that slither with their cake.
Will you have more?
advertisement