Contributors
Connect
In Print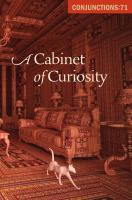 A Cabinet of Curiosity
Fall 2018
Edited by Bradford Morrow
Online
December 18, 2018
                            Late in the month you bore about
doing something else with money. A magnet's song,
I'd go on a weeknight in a small city with friends,
uncertain of the clapboard light, or who would
come.
December 11, 2018
Cresting the fence, each leaf
sharply particular, edgy, nearly
identical to its kin.
December 4, 2018
I read somewhere that we brood when we're alone, we act when we're together. As in act in a play. But she wasn't acting, at least she didn't know she was acting. Or maybe she was a far better actor than he was.
advertisement
advertisement