Contributors
Connect
In Print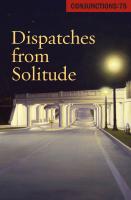 Dispatches from Solitude
Fall 2020
Edited by Bradford Morrow
Online
April 14, 2021
When you think of white do you think of Rembrandt
in darkness          pockmarked     a sieve or a monkfish
Ahead now     ahead then:       ash        scrub pine        shade
and Penny –– then twelve        then my brother's sole friend 
April 7, 2021
To sing's to field thought's
failed arrow, then drop it,

as sadness surprises,
as always, then doesn't,

its record all rumors, bits
of lithic in its meat,
March 31, 2021
Underneath the electric microscope frass gathered like a word no one could pronounce, or something children left in a cage. Sugar ants were gorging on the corpse of a cicada next to the front door. Soon four golden mounds were theirs, to carry back in their lemony bellies to the queen. I have a box of nine suns set on spikes, a pair of gray bags concealing speakers. I am your teacher, said the teacher, alone in a room. If there is a predicate to this.
advertisement
advertisement