Contributors
Connect
In Print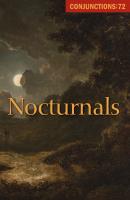 Nocturnals
Spring 2019
Edited by Bradford Morrow
Online
August 20, 2019
Today is an apparent day of shadows piercing timeworn walls, of melt & freeze & brutal disregard, of brutality in its frightened guise, of mastery in fear & fear in mastery, of fear in its brutal guise
August 13, 2019
   Tinfoil-hat alert: I asked God for more,
sharpening my quills and gathering reams of paper to write books
     as an antidote to all I was not!
August 6, 2019
After my grandma died, my uncle had their dog Lady euthanized. I'm not sure why. My grandfather went into assisted living. My uncle took over the farm. He rarely invited anybody over.
Monday, October 28, 2019
2:30 pm – 3:30 pm