Contributors
Connect
In Print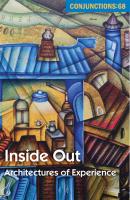 Inside Out: Architectures of Experience
Spring 2017
Edited by Bradford Morrow
Online
July 18, 2017
The body is an object that orients vision. As much as I want to, I can't stop looking. All the people getting on the subway—strangers. And yet I look at them, hopefully, vacantly. I stare.
July 11, 2017
In the palace of music, a gathering of the mute:
this became the body.
Parts 3–6
June 20, 2017
Coiled in the mother's womb in the birth sac is a small creature with a large head and flat puckered face, tight-shut eyes, tiny clenched fists, that could be mistaken for a purely human fetus, or, from another angle, a chimpanzee baby with somewhat human features.
advertisement
advertisement
The fourth reading in the Cities Series, presented by Conjunctions and the Bard Office of Alumni/ae Affairs, takes place at Myopic Books in Chicago
Saturday, August 26, 2017
7:00 pm
Myopic Books, 1564 N. Milwaukee Ave., Wicker Park, Chicago