Contributors
Connect
In Print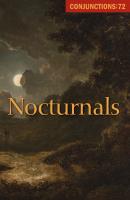 Nocturnals
Spring 2019
Edited by Bradford Morrow
Online
A Selected Text from Conjunctions:72, Nocturnals
May 16, 2019
In agitation along sleep's surface

dreams the monster, the angular, the slimy, the anything goes, the corpse

who strokes the tigers with rather weak jaws

in a jump cut, on an icy blue couch, red queen

on mute––
May 14, 2019
Though no one is watching, an opening in the hedges reveals a gap where entry is possible.
Inside, an entity multiplies, but how can I know this. The broodself is invisible and smells like
before, which is the only way to know that it happened. It crawls out in unknown ways on
unknown legs, identical because there is no other form or sound.
A Selected Text from Conjunctions:72, Nocturnals
May 9, 2019
What they had in common was they were smokers; everyone was a smoker then. Those three, though, they smoked to live. Cigarettes! There the cigarette would be, raised to the lips. The lips opening, only a little. The smoke drifting across the roof of the mouth. The lungs filling—this is how they recognized one another, in the green sea, green as grass, by streams of water green as glass.
advertisement