Contributors
Connect
In Print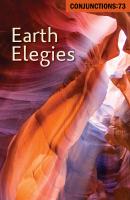 Earth Elegies
Fall 2019
Edited by Bradford Morrow
Online
A Selected Text from Conjunctions:73, Earth Elegies
November 15, 2019
I was excited to help. The response here, officially, was bad. A lot of us knew we needed to react to that somehow. We wanted the victims to know that not everybody here felt like he did. But also, yeah, that's the word for it, excited.
A Selected Text from Conjunctions:73, Earth Elegies
November 8, 2019
Shira thought she would buy furniture for the bedroom first. Kevin made attempts at saving his garden. Doreen pushed the dough down with the heel of her hand. Gabriel tried a new yoga pose. Cynthia and Steve went for a drive. Toby said, The weather is just great. Marybeth wore the same dress two days in a row.
November 5, 2019
An abalone shell in a dream signifies a new home.

To be afraid in a dream signifies strife along with danger, which seems obvious enough.

Clear air in a dream signifies success in one's business affairs.
advertisement
Monday, March 2, 2020
2:30 pm – 3:30 pm
Campus Center, Weis Cinema