Contributors
Connect
In Print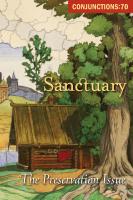 Sanctuary: The Preservation Issue
Spring 2018
Edited by Bradford Morrow
Online
August 21, 2018
The sidewalk tables are ruins
that we walk through, eager.
It has always been like this.
A sear with a varnish of butter
and fresh pepper. A swallow
of wine. A swallow.
August 14, 2018
The coffee from yesterday warmed up and left in the microwave, the late-December sky two hours before the sun comes up outside of smudgy windows. Sitting. The desk. The bed. The bed the desk. It's funny the things we hold on to, for no particular reason, or no good reason.
July 31, 2018
Perhaps we should begin in extreme heat
              or intemperate ice,                  in salt solutions,   
              in drastic acid or radical alkaline,         in heavy metals
or in toxic waste—                    wherever life seems improbable