Contributors
Connect
In Print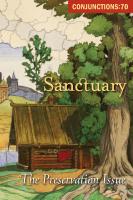 Sanctuary: The Preservation Issue
Spring 2018
Edited by Bradford Morrow
Online
A Selected Text from Conjunctions:71, A Cabinet of Curiosity
November 8, 2018
A grown-up man not unlike me is trying to coax a struggling child into a box. That's badly phrased and only a single sentence in we are in need of starting over.
November 6, 2018
There were parts I recognized.

I saw by night a man riding a red horse and he stood among the myrtle trees in the bottom and behind him were red horses, sorrel and white. My Lord what are these?
A Selected Text from Conjunctions:71, A Cabinet of Curiosity
November 1, 2018
The moment had come to see if it was true that Grumpa had a collection of ties lined with pictures of what her brother called "naughty ladies."
advertisement
advertisement