Contributors
Connect
In Print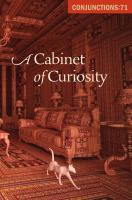 A Cabinet of Curiosity
Fall 2018
Edited by Bradford Morrow
Online
February 19, 2019
My mother cracked each day open like a gutted fish.
Her hours, a tarp draped over a stranger's head.
The way grief works:

a mirror the chemical
that ruins the body,
a window, a small blue prayer
gone missing.
February 12, 2019
(I want nothing short of not being brief. It's a peccadillo. Chickens take longer
Than they did. If I wasn't kind today, it's because I am feeling out of sorties like a movie
That ends before anything gets said that might resolve the question
Of why anyone would spend time making or watching a movie, or a bed.
February 5, 2019
I was beginning to sense a pattern. Not that I knew what the pattern was, just that one was coming into view. It had something to do with the babysitter. I didn't hire her, and refuse to be blamed. Sharon hired the babysitter; I spotted the pattern.
advertisement
Unnameable Books celebrates the Curiosity issue of Conjunctions
Wednesday, February 27, 2019
7:00 pm – 9:00 pm
Unnameable Books, 600 Vanderbilt Ave, Brooklyn, NY 11238