Contributors
Connect
In Print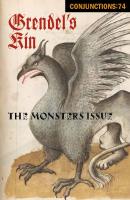 Grendel's Kin: The Monsters Issue
Spring 2020
Edited by Bradford Morrow
Online
October 28, 2020
Learning how

a strong stake aids
a slender, unassailable 

stalk is a matter of self-
denial and solace.
October 21, 2020
Send more Chuck Berry, went the joke—how the aliens would reply when they got their first spin of the Golden Record on the Voyager. Sweet, friendly aliens with toe-tapping rhythm (whether or not they had feet), an appreciation for sweat and guitar riffs pooling together even if they had no first-hand experience with either.
October 14, 2020
I like the black & white. I like
the mirage they create. I like
            planes. I like stray dogs
who never forget where I come from.
advertisement
advertisement