Contributors
Connect
In Print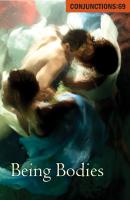 Being Bodies
Fall 2017
Edited by Bradford Morrow
Online
January 16, 2018
To sit with you
 among the starlings,
 yellow-eyed,  their
  paths hieroglyphic, and
 throw some crumbs our way.
January 2, 2018
I left him in the wilderness, the scrag that's left of wilderness—plastic bag choking the gatepost, Styrofoam snow in the farmyard. The wilderness drips down my legs. Mercury, moonlight, multinutrient fertilizer. What we pour on the land in nostalgia.
December 19, 2017
Etymology of undulate, circle and cloud. We sign our letters in undulating skies.
advertisement
advertisement

Approximate deadline:
Thursday, February 1, 2018