Contributors
Connect
In Print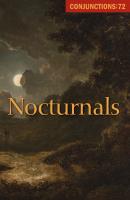 Nocturnals
Spring 2019
Edited by Bradford Morrow
Online
An Excerpt from Trafik
May 21, 2019
AM Locus has a fabricated atmosphere, humid and breathable, unexpectedly dense in the organic compounds of living things once there in profusion, but now long gone. Of the landscape, all that remains are deep creases and ridges gyring in all directions, with barely a trace of biological activity.
A Selected Text from Conjunctions:72, Nocturnals
May 16, 2019
In agitation along sleep's surface

dreams the monster, the angular, the slimy, the anything goes, the corpse

who strokes the tigers with rather weak jaws

in a jump cut, on an icy blue couch, red queen

on mute––
May 14, 2019
Though no one is watching, an opening in the hedges reveals a gap where entry is possible.
Inside, an entity multiplies, but how can I know this. The broodself is invisible and smells like
before, which is the only way to know that it happened. It crawls out in unknown ways on
unknown legs, identical because there is no other form or sound.
advertisement
Monday, October 28, 2019
2:30 pm – 3:30 pm