Contributors
Connect
In Print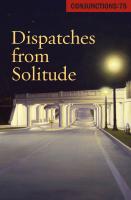 Dispatches from Solitude
Fall 2020
Edited by Bradford Morrow
Online
January 19, 2021
. . . a well-perfumed friend, wise both
in the olfactory and in love, taught me
to spray with economy, to wear scent
as a private pleasure, evident only to
a lover in kissing distance.


 
January 11, 2021
One's opportunities to be unhappy are

Unlimited.     Or limited, but only by

One's own imagination, which is powerful

But fragile, is defenseless,     but is limited

Only by things unseen.     As Bark Psychosis did it
January 4, 2021
As life encroaches on the dreaming
bedpost, you remember

a chip of ice you found in river
sludge, its sheen a mute witness

to increments of change
as lens and pure belief.
advertisement
advertisement