Contributors
Connect
In Print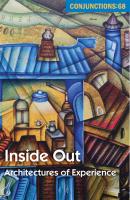 Inside Out: Architectures of Experience
Spring 2017
Edited by Bradford Morrow
Online
July 25, 2017
Big bovine heads float over the destroyed city
Laser beams of mean girl miffed fury zing
Down from their eyes the rubble smokes
July 18, 2017
The body is an object that orients vision. As much as I want to, I can't stop looking. All the people getting on the subway—strangers. And yet I look at them, hopefully, vacantly. I stare.
July 11, 2017
In the palace of music, a gathering of the mute:
this became the body.
advertisement
advertisement
The fourth reading in the Cities Series, presented by Conjunctions and the Bard Office of Alumni/ae Affairs, takes place at Myopic Books in Chicago
Saturday, August 26, 2017
7:00 pm
Myopic Books, 1564 N. Milwaukee Ave., Wicker Park, Chicago