Contributors
Connect
In Print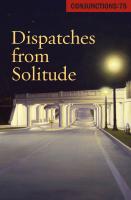 Dispatches from Solitude
Fall 2020
Edited by Bradford Morrow
Online
March 3, 2021
The roses never looked so good before we gained a dormant garden
help. But roses burn in just one day of this appalling desert heat. An
effervescent sun burning the roses as I must wish it would inflame all
features of the abhorrent politicians plunging a nation into ruin ... and archaeology! We look in vain for faces from a human past.
February 24, 2021
Then geese cycle madly
across a pond
like Wile E. Coyote
three feet past the cliff—

catch lift
and join the great migration.
February 17, 2021
We're coming home from school, walking up the hill, Marco in front, his head down, his hands buried in the pockets of his jeans, Laurel behind him, the collar of her shirt spilling out of her sweater like a tropical plant, then Samantha, agitated, as if struggling to free several birds from the snags in her hair, and finally Peter, our little brother, who lags behind us and sings:

           and all the people said
           what a shame that he's dead
advertisement
advertisement