Contributors
Connect
In Print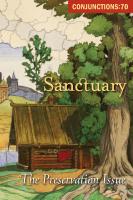 Sanctuary: The Preservation Issue
Spring 2018
Edited by Bradford Morrow
Online
October 16, 2018
The knife was raised
before there was an after.
He cried out, "Stop, stop!
"My name means laughter."
October 9, 2018
It was his mother's necklace, so it had value to him, more value to him than probably to his wife. It was meant for a woman though, so he couldn't wear it.
October 2, 2018
Song of Betel leaves being moved
from one cheek to the other and
someone sleeps on a sofa, the peal
of fleecy bells in the distance.
These real things. These real
things that make everything
real around them.
advertisement