Contributors
Connect
In Print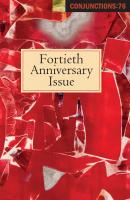 Fortieth Anniversary Issue
Spring 2021
Edited by Bradford Morrow
Online
October 27, 2021
I stretch into
a shape. Do as I'm told

in plastics. Each mold

is a house
is an ocean but

only now do I know
his death was never some renewable

substance. The whale sank away––

out of contact ... 
October 20, 2021
Launch

codes, we stripped species,
            our insecure
hands of gloves
to crack the test           to our capitalizable
future. Pray
            for the multiverse I'm working on
at midnight.
October 13, 2021
Forgive us. We were waiting
here, in the thickening ice. We worked a long time. Now
we try to give what we found, a little basket
hiding behind each back, full of the young shoots.
They are so green. Mercifully green. We say so. Yes,
they are alive, we say. We, too. We are still sick.
advertisement