Contributors
Connect
In Print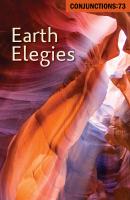 Earth Elegies
Fall 2019
Edited by Bradford Morrow
Online
February 18, 2020
Things that are Funny on a Submarine But Not Really— The torpedo man named Grenadier who lives in South Carolina and thinks North Carolina is the North. The XO who hates my bucket hat I wear printed with cherries, but would rather me wear it than the other one I have that says, "Bigfoot is Real."
February 4, 2020
Although family therapy consumed more time than basketball practice and did not improve my odds of attending my first-choice college, my sister's suicide attempt had alarmed my parents, and they were taking every precaution against relapse.

     Horse, meet barn door. Bird, meet coop. I am trying to say: It was all so predictable.
January 28, 2020
I worked for commission in a sterile room with many clocks. The product did not glimmer in the fluorescence, but it was as if it did, and better, like they'd found a way to remove the obligatory negative space of glimmering when the object floated in darkness.
The 2018 Berlin Prize winner reads from her work
Monday, March 2, 2020
2:30 pm – 3:30 pm
Campus Center, Weis Cinema