Contributors
Connect
In Print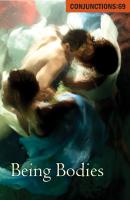 Being Bodies
Fall 2017
Edited by Bradford Morrow
Online
October 31, 2017
Like you were always
waiting in line for something
just vaguely wanted. What makes us

more human than waiting.
October 24, 2017
Shapeshift at quonset in a military theater by the sea
west coast bildungsroman scrub data field salt flat doubt drains
the projectionist's daughter popping in and out of the frame
October 17, 2017
Cycles of sleep and waking. Birds migrating from cold region to warm. The rate of polar ice melting. Or the beat of iambs or the subtler pulse of prose.
advertisement
advertisement
advertisement

Approximate deadline:
Thursday, February 1, 2018