Contributors
Connect
In Print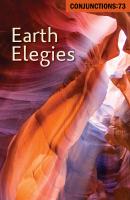 Earth Elegies
Fall 2019
Edited by Bradford Morrow
Online
January 21, 2020
I have taken a blow to the head.

     Not one blow. Many blows. But one was worse than the others.

     And my larynx is not my own. My heart isn't either. But I have a phantom larynx and a phantom heart.
January 14, 2020
We found the laptop in Cressey's round room. It was black, thin, light as wood, and belonged to Dr. Marcus, the man who came on to me once, the one who smokes dope in the eaves, the philologist or psychologist. I can't get these "terms" straight in my head anymore, what with these drugs they feed us. The afternoon pills, especially.
January 7, 2020
We turn the floodlights on the actors, extras in one of the world's great short stories, surprising them mid-escapade, nocturnal animals caught playing dress up with our clothing, our fanciest possessions. Pearl choker on a possum, suit jacket on a raccoon. A skunk, a lynx, two tubby foxes moonlighting as twin nephews or as young men dating our daughters.
advertisement
Housing Works Bookstore Cafe & Bar Celebrates the New Earth Elegies Issue
Thursday, January 30, 2020
7:00 pm – 8:00 pm
Housing Works Bookstore Cafe & Bar, 126 Crosby St., New York, NY 10012