Contributors
Connect
In Print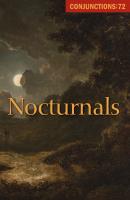 Nocturnals
Spring 2019
Edited by Bradford Morrow
Online
October 22, 2019
It's civic because it has a surface. It's worse than it seems, but at least it keeps seeming. Though I become butter in the face of such hard-knifed buildings, I'd like to locate a harmony that does not equal plan. That doesn't tilt the map toward a penthouse.
October 15, 2019
On the highway, saw the eyes of a sheep staring through slats
of a trailer transport. Who?

I thought for both of us. The choices
I had; those it didn't.
October 8, 2019
I wanted to take you out shoplifting
mascara, reenacting all the scenes from
Marie Antoinette. I wanted us to fall 
back repeatedly into a bed of extravagant
dresses, eat really good chocolates, listen
to even better music, smell really good.
Is that too literal?
advertisement
The Bard Fiction Prize and Los Angeles Times Book Prize winner reads from Maggie Brown & Others
Monday, October 28, 2019
6:30 pm – 7:30 pm
Reem-Kayden Center Laszlo Z. Bito '60 Auditorium