Contributors
Connect
In Print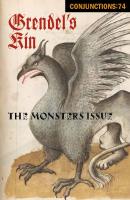 Grendel's Kin: The Monsters Issue
Spring 2020
Edited by Bradford Morrow
Online
May 26, 2020
Coworkers drop me off at a cutting-edge camp for the talkative so I have people other than them to bore for two weeks such as the doorman with the bad left knee who I tell about my bad right knee as we are exiting applauding vehicles under upstate trees
May 19, 2020
As the light scanned his body, I could not tell if what was projected was what was outside, that which remained of his dynastic rule, the ruins of pillage and scorched-earth tactics from those of the north, or perhaps of his own minions; or was it some landscape of his dreams, an unfolding of what would come, the ruins that lay waiting deep in the tenses of the future, where the springs would be clouded with matter, the earth pocked and scabrous, mucosa and serum streaked.
May 13, 2020
It is contested territory. Right now she has two thick horns atop it. Dying can turn the most flamboyant into their most feared demon.

     R who works with her in the daytime puts oil (olive, coconut) on the horns, which G, who works nighttime, complains about.