Contributors
Connect
In Print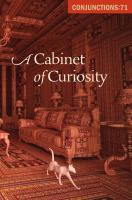 A Cabinet of Curiosity
Fall 2018
Edited by Bradford Morrow
Online
A Selected Text from Conjunctions:72, Nocturnals
April 18, 2019
The first time I crossed the equator, I stopped for a photo. People usually do. I had come to work in a small clinic in a coffee-farming village in southwestern Uganda, just to the south of the world's belt. I grew up in the midlatitudes: long summer days and long winter nights, the swing of light and dark like a rocking hammock. I thought of the equator as a human idea—a line on a spinning globe. Its tyranny was a shock.
April 16, 2019
In the first dream, the dog is disguised as a cat.

In the second dream, when I pet him, the dog turns into chocolate.

In the third dream, the dog is a ball of dirty yarn which I scoop up
and lay over my chest to muffle the sound of my rapidly beating heart.
April 2, 2019
Jing Street, where I live, is a long, narrow street with many coffee shops and teahouses. Sitting in my third-floor study, I can see inside the "Island" coffee shop across the street. This small shop does a good business; it's almost always packed. I frequent this shop, too. I secretly call Hoh Dao, its owner, "Mr. Perfect."
advertisement
2018 American Book Award–winning author Valeria Luiselli reads from her work
Tuesday, April 23, 2019
6:00 pm – 7:00 pm
Campus Center, Weis Cinema